Car Shipping - UK to Japan
Car Shipping Services to Japan, Costs & Information
Autoshippers provide professional Roll-on/Roll-off and Container car shipping services direct from the UK to Japan, every week. We offer full door-to-door services and daily collections from anywhere in the UK and we specialise in shipping a wide variety of vehicle including classic cars, motorbikes, vans, 4x4s, trucks and more.
We have over 20 years' experience in shipping cars to Japan and our dedicated team of move managers understand every aspect of the vehicle shipping process, ensuring that your experience goes as smooth as possible. From paperwork & regulations, to duties, taxes, registration in Japan and more; our team of experts have you covered.
With weekly departures from Southampton, UK to the ports of Tokyo, Nagoya, Osaka, Chiba, Toyohashi, Yokohama and more, and full cover under marine insurance provided by Basil Fry Co, we are the leading choice when shipping your car to Japan. Get your free quote today.
Car Shipping Services to Japan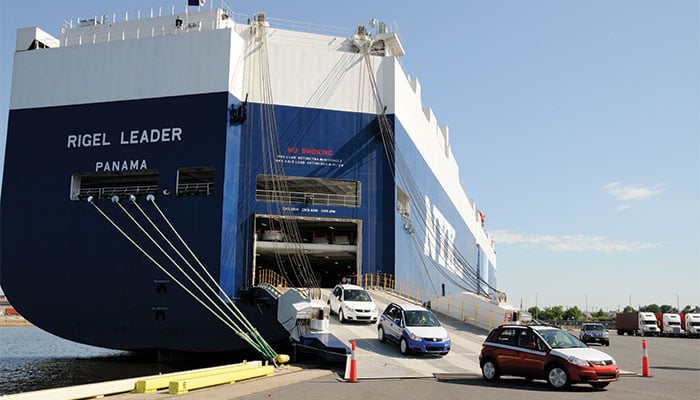 Roll-on/Roll-off (RoRo) Car Shipping
Our most popular & convenient car shipping service; Roll-on/Roll-off offers a safe and secure way of shipping your car to Japan. Vehicles are driven onto specialised 'RoRo' vessels and secured under deck, protected from the elements. RoRo shipping is simple and relatively fast, however the option to ship any belongings with the car is not available.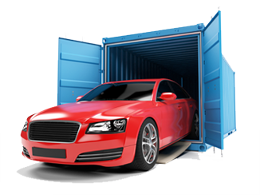 Container Car Shipping
We also offer container car shipping services, both shared (40' container) and sole use (20' container) for those looking for added protection or those who wish to ship personal belongings with the vehicle. We have container loading facilities located at all main ports in the UK where your vehicle is safely secured for transit.
Car Shipping Costs from the UK to Japan
How much does it cost to ship a car to Japan?
Car shipping costs from the UK to Japan start at £1,680 for our Roll on Roll off service when shipping a standard saloon car. To ship using our shared container service will cost £1,842. These costs may vary depending on the type of vehicle.
Listed below are the port-to-port car shipping costs for RoRo Japan. Other ports may be available so please contact us for more information. We can also arrange for delivery to any city in Japan, including Tokyo, Sapporo, Yokohama, Nagoya, Kyoto, Osaka and more.
Costs such as port handling fees, duties or taxes are not included here. For a full quote tailored to your move, click here or give us a call on: 0800 389 0784.
Car Shipping Costs UK to Japan

Vehicle Type
Service
Destination Port
Shipping Cost
CAR
RoRo
Toyohashi
£1,798
Yokohama
£1,798
Container (20ft)
Tokyo
£1,699
Nagoya
£1,699
Osaka
£1,972
SUV
RoRo
Toyohashi
£1,798
Yokohama
£1,798
Container (40ft)
Tokyo
£1,699
Nagoya
£1,699
Osaka
£1,972
Collection
Daily collections are available from anywhere in the UK. Collection can be arranged with either a chauffeur driver, car transporter or fully enclosed collection vehicle. Cars can be driven straight from the pick-up point to the port of departure. Alternatively, clients can also choose to deliver the vehicle themselves.
Import Regulations for Shipping Cars to Japan
All vehicles imported into Japan must comply with Japanese regulations as outlined in the Japan Automobile Federation (JAF). Inspections and emissions test must be carried out on all vehicles before they can be shipped to Japan. If your vehicle is to remain in Japan for less than 1 year it is except from taxes & duties.
Customs Procedures & Documentation
In order to ship your car to Japan, we need a copy of the following documents:
Copy of the V5 (Licence Document) for your vehicle
Copy of the photo page of your passport
A copy of a valid MOT certificate if you require us to arrange collection of your vehicle in the UK using an insured driver. If your vehicle does not have a valid MOT, or if you would simply prefer, we can arrange collection using a recovery vehicle or enclosed collection vehicle
Car Shipping Arrival Process
Once the vehicle has arrived in Japan, a declaration form must be filled out and completed in order for the vehicle to be cleared by customs. Once cleared, you will receive a customs clearance certificate.
The vehicle will then be delivered to a Ministry of Land, Infrastructure, Transport and Tourism (MLIT) testing centre to undergo emissions tests and inspection. This process can take up to 1 week, so please plan accordingly.
Once testing is complete, the final step is to register the vehicle at a 'Land transport Bureau' office. Registration must take place no longer than 3 months after inspection. At this stage, any necessary vehicle tax should be paid and the registration certificate (shaken sho) will be awarded.
For more information on importing cars to Japan, see the Japan Automobile Federation website and the official website for the Japanese Customs Authority
Video - How We Ship Your Car to Japan
In this video we show you our process for shipping your car from the UK to Japan in a 20ft container.
The car is loaded and secured at our facility to ensure it doesn't move during shipment.
It is driven into the container and positioned before all four wheels are safely chocked using either metal or wood chocks.
Strong, padded ratchet straps are used to lash the wheels to the container's built-in securing eyelets.
If straps cannot be secured around the wheels, the vehicle's front and rear towing eyelets are used for secure lashing.
All shipping containers adhere to strict safety regulations, ensuring structural integrity and protection from weather conditions.
Check out our container car shipping page for more information on our container shipping process, and for more car shipping videos see our video gallery.
Contact Us/Get A Car Shipping Quote
If you have any questions or would like help/advice on any aspect of shipping a car to Japan, don't hesitate to get in touch, give us a call: 0800 389 0784, or get a free quote today.