Car Shipping by Container
Worldwide car shipping by 20' or 40' container
Shipping your car in a container may provide a better solution to your requirements than a Roll on Roll off (Ro Ro) service for a number of reasons including the type of vehicle you have to ship, your intended destination or it may simply be your preference to use a container to ship your car. Unlike Ro Ro services, if you have some personal items or perhaps spare parts you also need to ship, these can be loaded in your car and shipped with it inside your container.
Standard containers come in two sizes; 20' and 40' in length. While a 20' container is suitable for shipment of one car or 4x4, a 40' container provides sufficient space for two average size vehicles so may be more cost effective if you have more than one vehicle to ship. We have loading facilities at all major ports in the UK including, Southampton, Felixstowe, Tilbury, Bristol, Liverpool, Grangemouth and Portsmouth where your car will be secured into it's own dedicated container ready for shipment.
In addition to arranging shipment of your car we also provide a daily collection service throughout the UK and can arrange for your car to be delivered to our container loading facility using chauffer drivers, conventional car transporters or an enclosed collection vehicle. You can of course deliver your car yourself and we book your delivery time with the port and provide you with the documentation and dock passes needed to hand over your car when you arrive.
Loading a Car for Container Shipping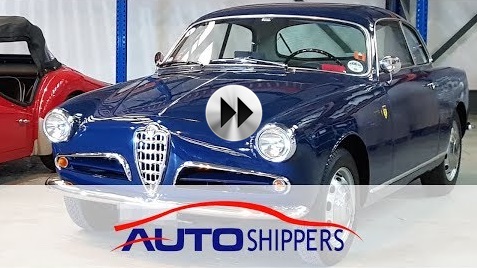 Great care is taken to safely load your car so that it remains well secured for the duration of shipment to destination and does not move within the container either while at sea or being loaded and unloaded from the ship. Check out our loading videos by clicking the link to see exactly how it's done, or continue reading for more detailed information.
At our loading facility your car is driven into the container and carefully positioned before all four wheels are safely chocked. Wheel chocks can be made from either metal or wood and when in place are screwed down to the floor of the container.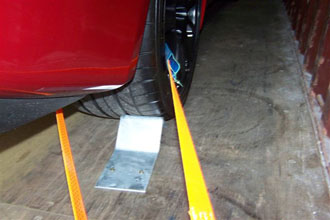 Once the wheels have been chocked strong, padded ratchet straps are used to lash the wheels to the containers built in securing eyelets located in each corner to ensure that your car cannot move during transit.
If the nature of your vehicle means that it may not be appropriate or perhaps possible to secure straps around the wheels, the vehicles front and rear towing eyelets can be used to lash your car securely in the container.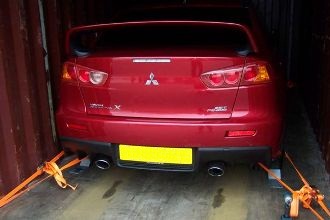 All car shipping containers must comply with strict safety regulations confirming both their structural integrity and that they are deemed wind and water tight. These stringent requirements ensure that when loaded into a container your car will remain safe and protected from the elements.
Transported around the globe by specialist container ships, their standard size mean that containers the world over are compatible with one another to be easily loaded and transported by ship, train or road trailer. While some of the largest ships currently in use are an incredible 1,300 feet long and are capable of carrying a staggering 16,000 containers, today's purpose built container terminals can complete unloading and re-loading in just a matter of hours.
For a quotation to ship your car in a container please use the form on the left of this page or if you would simply like to ask us a quick question you can contact us here.
Shipping a vehicle together with a large amount of household items?
We also offer a combined car and personal effects shipping service where your household items are packed and secured to pallets using our bespoke 'Shrinkfast' packing system. Packing on to pallets means that both your car and belongings can be safely loaded together in the same container while greatly reducing any risk of damage. For further information on how we pack items to be combined and shipped with your car, please see details on our international removals service here