Car Shipping UK to Australia
Costs and Services Explained
Regular Car Shipping by Container and RoRo from the UK
Auto Shippers offer car shipping to Australia by Roll on Roll off (Ro Ro) direct from the ports of Southampton and Sheerness and regular container shipments from Southampton to Melbourne, Sydney, Adelaide and Brisbane. We have been shipping cars to Australia for our private clients for over 20 years and our team of dedicated move managers have a wealth of experience in all aspects of car shipping. See below for up-to-date car shipping costs to Australia and for an overview of the available services.
Car Shipping Costs from the UK to Australia
How much does it cost to ship a car from the UK to Australia?
Car shipping costs from the UK to Australia start at £844.00 when shipping by container or £1002.00 when shipping by Roll-on Roll-off. These prices may vary depending on your exact destination and the size of the car. For example, shipping a 4x4 in a container to Melbourne, Australia will cost £959.
Car Shipping UK to Australia Costs Guide

Type
Container Shipping Costs
RoRo Shipping Costs
Saloon Car
£907 - Melbourne
£1,002 - Melbourne
£907 - Sydney
£1,002 - Sydney
£907 - Fremantle
£1,002 - Fremantle
£907 - Brisbane
£1,002 - Brisbane
£907 - Adelaide
£1,168 - Adelaide
SUV / 4x4
£1022 - Melbourne
£1,185 - Melbourne
£1022 - Sydney
£1,185 - Sydney
£1022 - Fremantle
£1,185 - Fremantle
£1022 - Brisbane
£1,185 - Brisbane
£1022 - Adelaide
£1,460 - Adelaide
Car shipping costs included in this table should be used as a guide only. Prices are current at the time of writing, however they may vary depending on the exact destination and vehicle dimensions. Please check with us prior to booking. To receive an accurate quote specific to your vehicle type and destination, please fill out the quote form on this page.
R-Rak (Container) Car Shipping to Australia
By utilizing the revolutionary R-Rak container car shipping system we can load 4 cars, safely and securely, into 1 x 40ft container. This gives us considerable savings over the traditional method of building car racks with wood, and is a little friendlier to the environment. This system of shipping cars has now been adopted by some of the world's largest car manufacturers including BMW, Honda, Mercedes Benz, Volkswagen, Lotus, Volvo and Ford.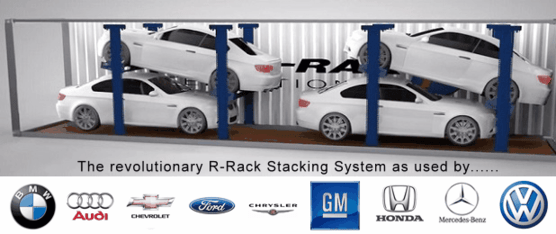 Now proven to be the safest system for shipping cars overseas, the R-Rak system allows us to ship on a regular basis, direct to all main Australian ports with considerable savings to our clients and with the added benefit of more frequent sailings and faster transit times.
Please note that you may load personal effects, spare tires, tools or other belongings inside the vehicle when using the R-Rak method. This option is not available for our Roll-on Roll-off services.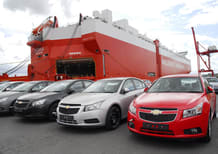 Roll-on Roll-off (RoRo) Car Shipping to Australia
Your vehicle can be collected anywhere in the UK or you can drive your car directly to the port. Cars are then driven directly into the car shipping deck of the vessels. The two main car shipping lines to Australia are Hoegh Autoliners and Wallenius Lines and between them we offer you car shipping from the UK to Australia every 7 to 10 days.
Customs Rules and Documents for Shipping a Car to Australia
As a registered customs broker we have direct access to the Government gateway to ensure that your car is shipped to Australia in accordance with current UK customs requirements to avoid delay in shipment. Through our agents in Australia we also provide comprehensive assistance in completion of customs formalities at your destination port. You can find further information on how to ship your car to Australia and detailed information on Australia customs rules and regulations on our Australia car import guide here.
Vehicle Import Approval
You must first obtain approval from the Australian Department of Infrastructure and Transport before you can ship your vehicle to Australia. Getting this approval is mandatory and failure to do so before your car arrives in Australia may result in having to pay expensive storage and, if ultimately your approval request is denied, your vehicle will have to be shipped back or destroyed at your expense.
You can find the latest application form here: Application for Importing a Vehicle
Quarantine Inspection
On arrival in to Australia your vehicle will be inspected by an officer of the Department of Agriculture to ensure that it does not carry any risks of environmental contamination. Such risks include, but are not limited to: live insects, seeds, soil, mud, clay, animal faeces, animal material and plant material such as straw, twigs, leaves, roots, bark. Therefore, it is required that any vehicle being shipped to Australia must be thoroughly cleaned to meet these high inspection standards.
We have put together a short guide to talk you through exactly what this inspection is looking for so that you can easily prepare your vehicle here - Australian Import Vehicle Inspection Guide.
Documents We Need
To ship your vehicle to Australia there are a few things that you will need to provide us with:
A copy of the V5 (Licence Document) for your vehicle – we do not need the original.
A copy of your Passport photo page.
A copy of a valid MOT certificate will be required if you require collection of your vehicle using an insured driver.
A copy of your completed Application for Importing a Vehicle.
Get a Quote
For a quick quote to ship your car to Australia you can use the form on the this page. Alternatively you can call us free on 0800 3890784 or simply contact us here.