Car Shipping from the UK to Dubai
Weekly Container and RoRo car Shipments from the UK to Dubai UAE
Autoshippers are a UK and US car shipping company. We are specialists in shipping cars to Dubai, UAE. We ship cars to Dubai by both container and Roll on Roll of services and can offer very competitive rates to ship your car to all main UAE ports including the two main ports ports in Dubai which are operated by the Dubai port authority, these are Port Rashid and Jebel Ali Port.
Services
You can ship your car to the UAE by container, in which case your car will be loaded and secured into the container at the port of departure. We can also load and secure vehicles at our main terminal in Bristol.
We also ship cars to Dubai, UAE, via Roll on Roll off, in both cases we can arrange collection from your door or you can drive the car to the port yourself.
Personal effects can also be loaded into any container shipments to the UAE but this is prohibited when shipping your car on RoRo services.
Why Choose Us?
When shipping your car to Dubai our experienced team will guide you through all the process, paperwork and information to ensure a stress free experience. We are regulated customs brokers and understand the vagaries of UAE import and export customs formalities.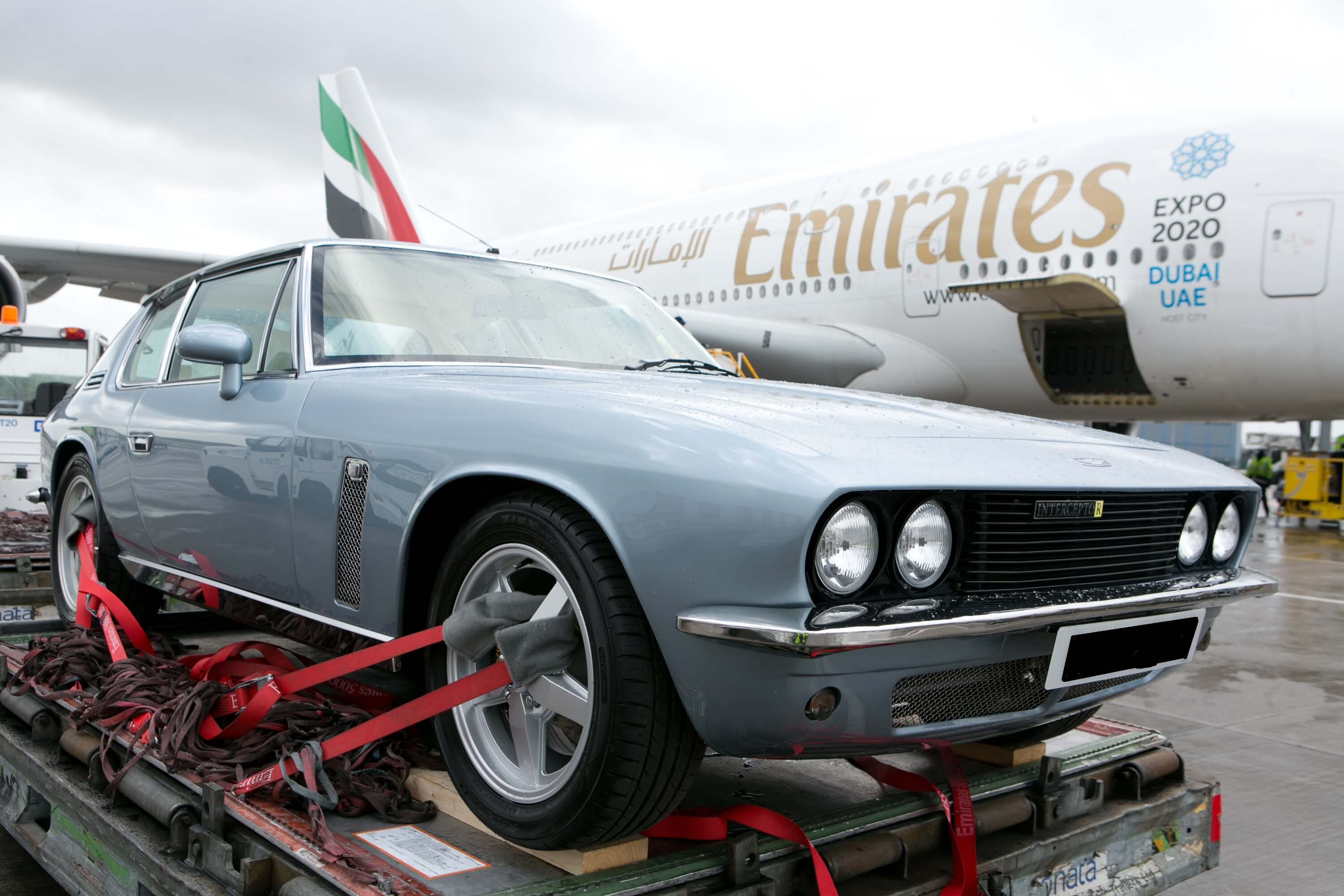 We also provide an Air Freight service, offering a faster and smoother journey for you vehicle. Whatever you are shipping, from the family car to classic cars, vintage cars, SUV's and prestige makes like Ferrari or Lamborghini, we can ship it to Dubai by air and sea, so please do not hesitate to contact us for further information.
For a car shipping quote to Dubai UAE and details of shipping costs please use our form on the left. You can also call FREE 0800 3890784 or contact us here. If you are shipping your car from the USA please complete the form on the left and our US agents will contact you directly within the next 24 hours.
Our car shipping agents in Dubai UAE can arrange all necessary customs procedures and delivery to all main ports, cities and towns in the UAE including Dubai, Abu Dhabi, Al Ain, Ajman, Ras al-Khaimah, Fujairah, Umm al-Quwain, Khor Fakkan, Sharjah and Dibba Al-Hisn.
How much does it cost to ship a car to Dubai, UAE?
See below for indicative car shipping costs for the major destinations in Dubai. Rates are current at the time of writing but may vary depending on the exact destination and vehicle dimensions. Please check with us prior to booking. Rates are port to port shipping only, and exclude duties and taxes, car collection costs, and redelivery (if required) at the destination.
To receive an accurate quote specific to your destination and vehicle dimensions, please fill out the form above.
Car Shipping Costs UK to Dubai

| Vehicle | Services | Costs / Prices |
| --- | --- | --- |
| Standard Saloon Car | Ro Ro - Abu Dhabi | £1,445 |
| SUV / 4x4 | Ro Ro - Abu Dhabi | £1,856 |
| Standard Saloon Car | 20' - Abu Dhabi | £1,547 |
| SUV / 4x4 | 20' - Abu Dhabi | £1,547 |
| Standard Saloon Car | Ro Ro - Jebel Ali | £1,445 |
| SUV / 4x4 | Ro Ro - Jebel Ali | £1,856 |
| Standard Saloon Car | 20' - Jebel Ali | £1,456 |
| SUV / 4x4 | 20' - Jebel Ali | £1,456 |
Video - How We Ship Your Car to Dubai
In this video we show you our process for shipping your car from the UK to Dubai in a 20ft container.
The car is loaded and secured at our facility to ensure it doesn't move during shipment.
It is driven into the container and positioned before all four wheels are safely chocked using either metal or wood chocks.
Strong, padded ratchet straps are used to lash the wheels to the container's built-in securing eyelets.
If straps cannot be secured around the wheels, the vehicle's front and rear towing eyelets are used for secure lashing.
All shipping containers adhere to strict safety regulations, ensuring structural integrity and protection from weather conditions.
Check out our container car shipping page for more information on our container shipping process, and for more car shipping videos see our video gallery.