R-Rak Car Shipping
What is R-Rak?
R-Rak is an innovative, safer method of shipping cars in containers.
Designed, tested and built by renowned vehicle racking systems manufacturers Trans Rak International, this unique car shipping system means that 4 standard saloon cars can now be loaded safely into standard ISO shipping containers. This provides for safe and secure shipping with the world's premier container shipping lines.
R-Rak has now been adopted by some of the world's largest car manufacturers who trust that their new vehicles can now be shipped safely and more efficiently in containers.
---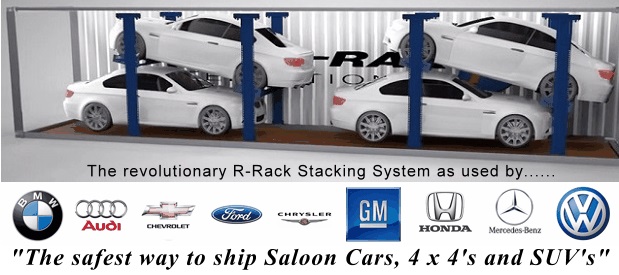 ---
The new R-Rak system now allows us to ship on weekly container vessels direct from the UK, and we are proud to offer this innovative service on our vehicle shipments to the USA, Australia, New Zealand, South Africa and Cyprus
For a quote to ship your car overseas using R-Rak or any of our other methods, please complete the form above or call us on 0800 389 0784.