RoRo Car Shipping
Worldwide Weekly Roll on Roll off (RoRo) Car Shipping
What is RoRo?
Short for 'Roll on Roll off', the term originates from the way vehicles are loaded on and off of the specially designed RoRo ship. Using the ships own integral loading ramps, vehicles are simply driven on at the port of departure ('Rolled on') and driven off on arrival at the destination ('Rolled off'). This is typically much faster and more efficient than standard container car shipping.
The RoRo Vessel
Roll on Roll off car shipping vessels are designed specifically for the transportation of wheeled cargo and are the preferred choice of shipping for car manufacturers including Mercedes, BMW, Audi and Jaguar to transport their vehicles all over the world.
In addition to vehicles that are capable of moving under their own power, these versatile vessels also have the capacity to carry non-motorised cargo such as boats or machinery on trailers, and non-roadworthy vehicles such as heavy plant equipment that run on tracks.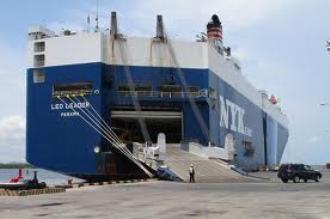 Capacity
Modern RoRo vessels are extremely sophisticated feats of modern engineering. Some of the largest ships currently in use are in excess of 860 feet long, have nine internal decks and are capable of carrying an incredible 6,000 cars per sailing.
Efficiency
Many ships are equipped with more than one ramp so that they can simultaneously load and unload vehicles. The speed with which loading is completed together with the sheer number of cars that can be carried on every voyage mean RoRo shipping is usually the cheapest way to ship a car.
Specialised Decks
Within the ship some decks are allocated specifically for loading heavy plant vehicles and machinery classed as 'High and Heavy'. For large outsized vehicles or equipment, decks can be raised and lowered for greater vertical clearance.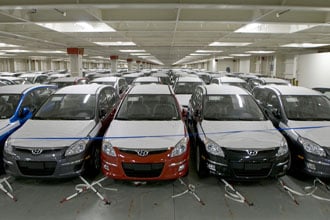 Security & Protection
Decks inside these ships are fully enclosed to ensure all vehicles remain protected from the elements during shipment and have securing points running throughout the floor on every deck. Vehicles shipped on RoRo vessels are tethered using straps around the wheels that are fastened to the ships integral securing eyelets.
Careful Planning
Loading of RoRo ships is very carefully planned with different types of vehicles being allocated to segregated decks so appropriate types of vehicles are loaded together - so don't panic.... your Bentley will not be loaded alongside a mechanical digger!
The Process
RoRo Services operate from a number of different UK ports including Southampton, Bristol, Tilbury, Sheerness and Immingham. Cars are driven to the port of departure, driven on to the ship and then driven off when she arrives at the other end. It's really that simple.
Collection
You can choose to deliver your car to the port yourself or you can arrange for us to collect and deliver to the port for you using our nationwide collection service. Cars can be driven by a chauffer driver, collected on a car carrier or can be transported using a fully enclosed collection vehicle.
Larger vehicles such as tractors or plant equipment may require the use of specialised vehicles for transportation to the port. Please ask us for further information on transporting outsized or unusual vehicles and one of our experienced team will be happy to help.
To request a quotation to ship your car please post your enquiry using our quote form on the left of this page or if you would like to ask us a question you can contact us here.
We also offer scheduled weekly car shipping services using 20' and 40' containers where your vehicle is loaded and secured inside it's own dedicated container for shipment. We provide detailed information on container car shipping here.