Namibia Car Shipping
International Car Shipping to Namibia by AutoShippers UK
Weekly container and Ro Ro car shipping to Walvis Bay, Namibia every week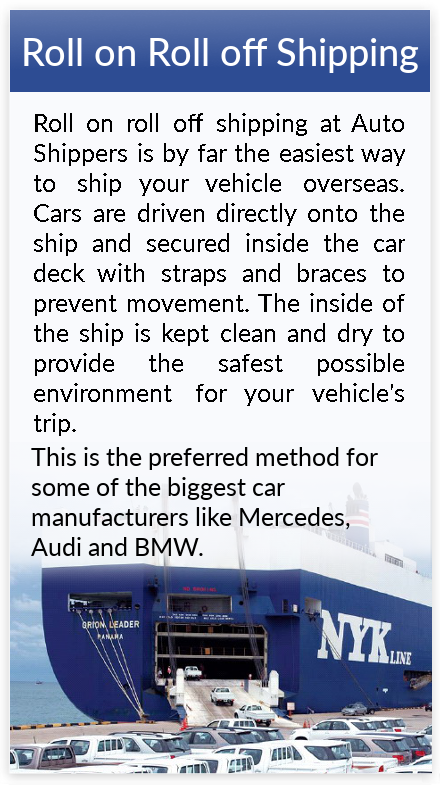 We provide fast container and RoRo (Roll on Roll off) shipping services to transport cars, 4x4's, vans and trucks overseas to Walvis Bay. As accredited members of the British International Freight Association (BIFA) all of our dedicated car shipping staff are experienced in all aspects of shipping our car to Namibia. We ship with the worlds premier shipping lines on sailings direct from the UK to Walvis Bay in Namibia every week.
We have dedicated container loading facilities at all major ports in the UK and provide a nationwide collection service to arrange car transport to the port of departure for Ro Ro and container car shipping to Namibia. Our services offer reliable scheduled sailings direct from the UK ports of Felixstowe, Bristol, Tilbury, Sheerness or Immingham with transit times from as little as 18 days.
Now proven to be the safest system for shipping cars overseas, the new R-Rack system allows us to ship more frequently to Namibia at a lower cost, letting us set very competitive prices and giving you peace of mind that your car will arive safely.
For the added peace of mind of knowing that your car is fully protected, marine insurance cover is provided as part of our standard service. All insurance policies are offered through our specialist broker and are underwritten by the insurance giants Royal and Sun Alliance.
As one of the UK's largest Namibia car shipping companies, we have over 20 years of experience in arranging transport of car's, 4x4's, motorbikes, van's, truck's, lorry's, busses....... if it's got wheels we ship it from the UK directly to Walvis Bay.

Use our quick quote form on this page to request a quote to ship your car to Namibia or call us Free on 0800 3890784. Alternatively to just ask a quick question you can contact us here.

Shipping Your Car From the UK to Namibia
As a registered and approved customs broker with a secure link to the UK Government gateway, we complete export border control formalities to avoid any delay in exporting your car from the UK.
Namibia Car Import Regulations
Dependent on your personal status in Namibia, it is possible to import your car under 'Rebate of Duties' and avoid paying import duty and tax. If you need any help or advice on shipping your car to Namibia, through our agents in Walvis Bay we provide assistance with completion of customs clearance and in arranging onward transportation anywhere in Namibia including: Walvis Bay - Windhoek - Swakopmund - Rundu - Oshakati - Katima Mulilo - Rehoboth - Okahandja - Grootfontein
Information on automobile and car import regulations at the Namibia High Commission London here.
Car Shipping Costs from UK to Namibia
How much does it cost to ship a car to Namibia?
Car shipping costs from the UK to Namibia start at £1138 for our RoRo service to Walvis Bay when shipping a standard saloon car. Other services may be available. These costs may vary depending on the type of vehicle. For example, shipping a 4x4 by RoRo will cost £1182.
Car Shipping Costs UK to Namibia

| Vehicle | Services | Costs / Prices |
| --- | --- | --- |
| Standard Saloon Car | Ro Ro - Walvis Bay | £1187 |
| SUV / 4x4 | Ro Ro - Walvis Bay | £1235 |