Car Shipping USA
Shipping your car from the UK to America with Auto Shippers
Weekly Car Shipping by Container and RoRo from the UK to the USA
Auto Shippers UK offer professional car and auto shipping services direct from all main UK ports to and from the USA. We have been shipping cars to North America for over 20 years and our network of agents throughout the USA offer bespoke customs clearance and delivery services to all US states.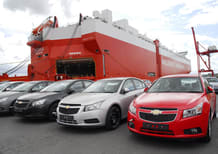 RoRo Car Shipping
We offer Roll on Roll off services for cars, SUVs, autos, motorhomes, trucks, vans and buses. All sailings are direct from the UK ports of Liverpool or Southampton to all Ro Ro ports in the USA including; Baltimore, New York, Norfolk, Brunswick, Miami, Charleston, Galveston, Jacksonville, Port Hueneme and Tacoma.
Read more about our RoRo car shipping services
Container Car Shipping
As an alternative to our Ro Ro services we also provide containerised car shipping to the USA for vehicles to be secured and shipped inside their own dedicated 20ft or 40ft shipping containers. Our UK Car Shipping container services operate on weekly departures from the main UK ports of Bristol, Felixstowe, Grangemouth, Liverpool and the Port of London with transit times to the East Coast in as little 8 days, Gulf ports from 14 days and the West Coast in only 22 days.
Read more about our Container car shipping services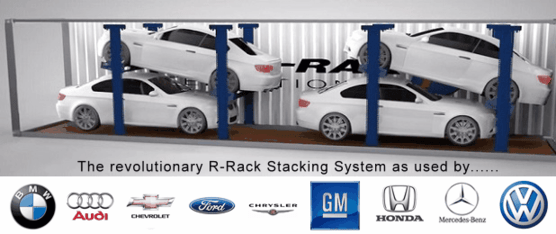 ---
Proven to be the safest system for shipping cars overseas, the R-Rack system now allows us to ship every week, direct to all main American ports with considerable savings to our clients and with the added benefit of more frequent sailings and faster transit times.
To request a quotation to ship your car simply post your enquiry using the form on the left or to ask us a question you can also contact us here.
How much does it cost to ship a car from the UK to the USA?
See below for indicative car shipping costs for the major US destinations. Rates are current at the time of writing but may vary depending on the exact destination and vehicle dimensions. Please check with us prior to booking. Rates are port to port shipping only, and exclude duties and taxes, car collection costs, and redelivery (if required) at the destination.
This table should be used as a guide only. To receive an accurate quote specific to your destination and vehicle dimensions, please fill out the form above.
Car Shipping UK to USA Costs

Destination
Standard Saloon Car
SUV / 4x4
Baltimore
£713
£1010
Brunswick
£713
£1010
Charleston
£713
£1010
New York
£728
£938
Savannah
£920
£1093
Galveston Port
(50 miles to Houston)
£891
£1,235
Jacksonville Port
(327 miles to Miami)
£891
£1,210
Port Hueneme
(70 miles to Los Angeles)
£924
£1,109
San Diego
(120 miles to Los Angeles)
£924
£1,109
Tacoma
(35 miles to Seattle)
£1,181
£1,414
Shipping your car out from the USA
Complete our easy auto shipping quote form on this page and let our car shipping agents In Los Angeles, New York, Miami, Houston or Savannah give you a tailored quote direct for shipping your car from any state in the US. They form part of the Auto Shippers network and all our US agents are BBB rated and members of AMSA. Fully bonded and insured to ensure a truly trouble free car shipping experience.
AutoShippers UK and our US partners have been shipping cars to and from the USA for over 20 years. We are experts in shipping all types of moving cargo including classic and vintage cars, motorhomes and SUV's. Between us we form the largest and most experienced network of professional car shipping companies operating between the UK and the USA and we ship over 25,000 cars per year to and from North America. You can be assured that we will always provide the care and attention needed to make sure your vehicle of choice will arrive safely.

We also provide additional information on USA customs car import regulations to assist you in shipping your car, details of which can be found on our USA customs guide here.