Air Freight Car Shipping
Fast and reliable air freight shipping for high value vehicles
Are you shipping a high value vehicle? Do you want your vehicle delivered as fast as possible and with minimal risk? If so, Air Freight shipping may be the perfect service for you.
Unlike RoRo or Container shipments, transit times for our Air Freight service are extremely short (1-4 days depending on the destination) and flights depart on a more regular basis. This makes the service ideal for those on a tight schedule.
Air Freight is also the preferred method for those shipping high value vehicles as it offers the best possible protection compared to other shipping methods.
When shipping a car via air freight, specialised aircraft pallets are used to secure your vehicle using high strength fabric straps to ensure minimal movement during transit. When shipping a motorcycle, typically it is packed into specially built wooden crates and secured onto the aircraft to provide maximum security.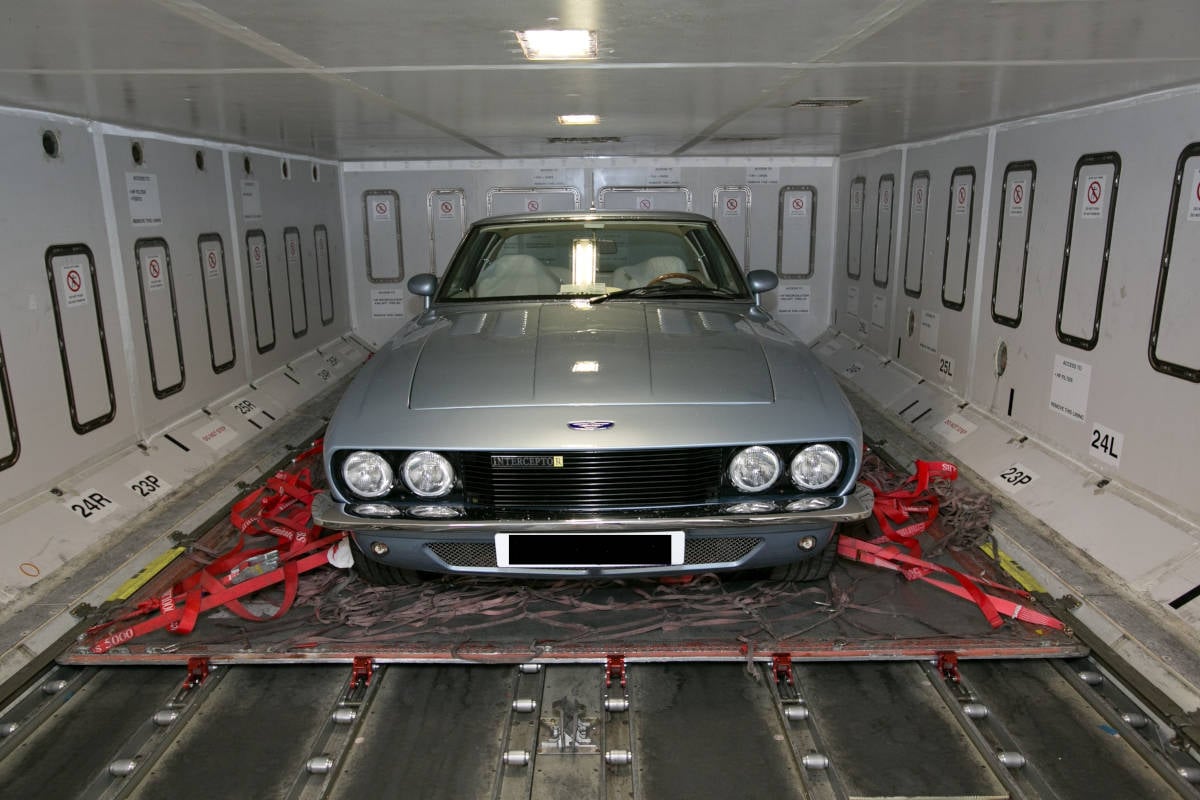 Our Air Freight service includes the following:
Collection (if required)
UK airport & airline handling
Dangerous goods classification and documentation
Security screening
Loading and securing your car to the aircraft
UK export customs formalities
And, as always - we will be with you every step of the way to offer advice & support.
The Process
As a rough overview - once your vehicle is booked and confirmed, we then block off the space with the airline to receive the vehicle at the cargo centre. The airline will then secure flight details and forward a draft copy of the Airwaybill for approval. Upon delivery at the cargo centre, the vehicle then undergoes security screening, and once cleared for export it is then stored inside a secure warehouse until it is ready to be loaded onto the aircraft for departure.
Collection
You can choose to deliver the vehicle to the cargo centre yourself or arrange for us to collect and deliver it using our nationwide collection service. Our collection service is equipped to handle a variety of vehicles, from high value classics to motorcycles and more. Please ask for further information on transporting unusual vehicles and one of our experienced team will be happy to help.
Preparing a Vehicle for Air Freight
There are a few conditions that must be met to ensure your vehicle is suitable for air freight shipping:
Your vehicle must be in running condition.
Ensure any and all leaks are fixed, as any leaks could result in the vehicle being refused for shipment.
Batteries can remain connected if safe, however alarm systems must be deactivated.
Ensure your fuel tank is no more than 1/8th full.
Ensure no personal belongings are inside the vehicle.
Paperwork / Documentation
Requirements for documentation are very similar to RoRo and Container shipments and may vary depending on your destination. Typically, we require a copy of your V5, a copy of your passport and a copy of a valid MOT certificated if you require collection in the UK. Please check our import guides in the menu above for more info. There you can also find appropriate information on duties/taxes and more.
How Much Does Air Freight Car Shipping Cost?
Below costs are from receiving the vehicle up to arrival at the destination.
Air Freight Car Shipping Costs

| Destination | Cost |
| --- | --- |
| Heathrow to Los Angeles, USA | £5940.00 |
| Manchester to Abu Dhabi, UAE | £5689.00 |
| Manchester to Dubai, UAE | £5408.00 |
| Manchester to Hong Kong | £5980.00 |
For a free quote to ship your car using our Air Freight service, fill out the form on this page. Or if you'd like to ask us a question, give us a call on 0800 389 0784 or contact us here.