Wellington Port facts and information. Car Shipping Services to Wellington
Shipping your car to Wellington, New Zealand? Find info on the facts and history of the port of Wellington.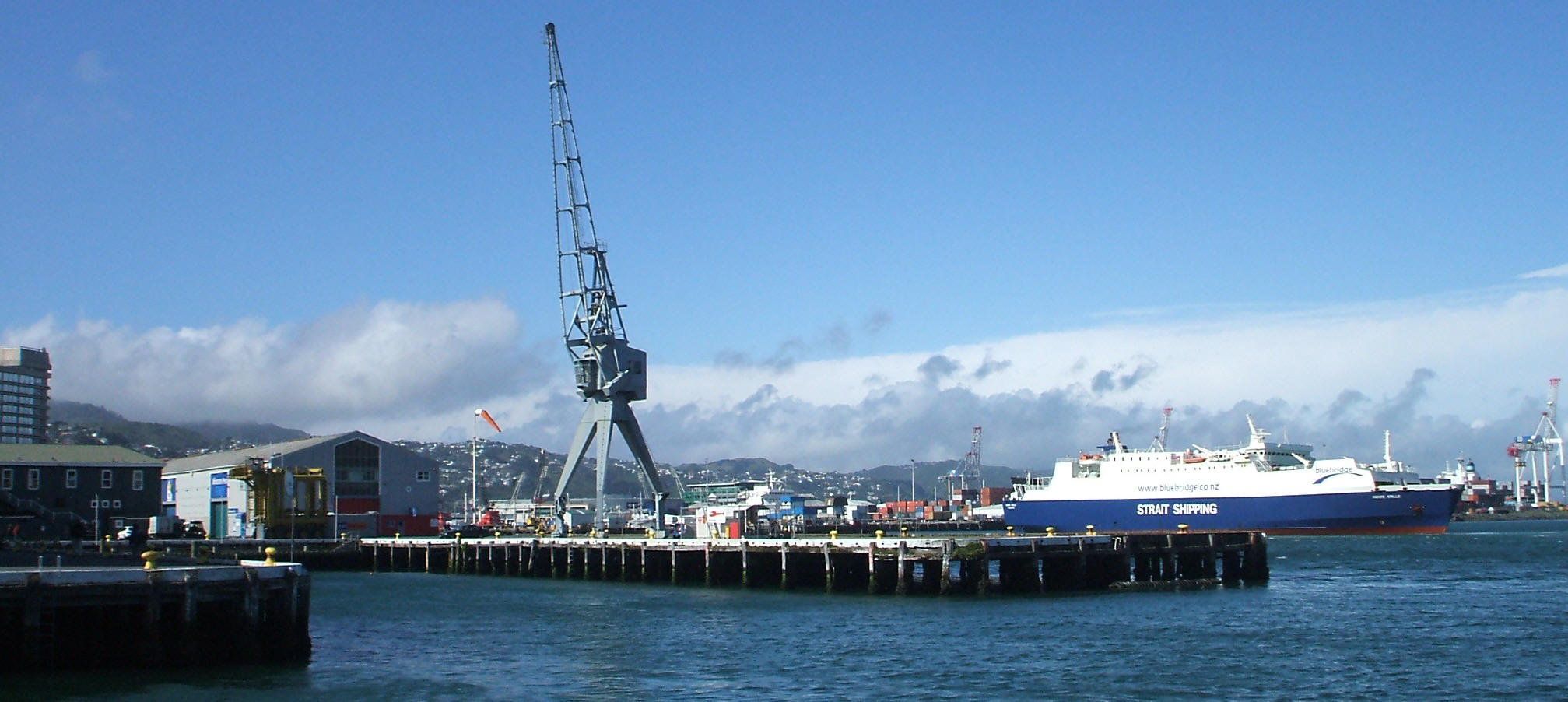 Wellington Port (New Zealand)
The Port of Wellington lies on the southern tip of New Zealand's North Island, 125 kilometers west of Port Nelson. New Zealand's capital city, Wellington, is in the geographical centre of the country. While CentrePort is the only port able to offer delivery anywhere in New Zealand within 24 hours.
History
New Zealand's aboriginal people, the Maori, knew Wellington as Te Upoko o te Ika a Maui, meaning "the head of Maui's fish", the port being the mouth of the fish. The European name, Wellington, came from Arthur Wellesley, first Duke of Wellington and British Prime Minister.
Large-scale land reclamation began in the middle of the 19th century, to build the city and harbour. A massive earthquake in 1855 raised a tidal swamp to the north west of the new city, which was later reclaimed to provide road and rail connections. The Wellington Harbour Board was established in 1880. Land reclamation and the building of wharves continued into the 20th century.
Roll-on/roll-off cargo handling methods were introduced in the 1960s, resulting in the Wellington Harbour Container Terminal, where the first container ship berthed on 19 June 1971.
Facilities
The Port of Wellington is operated by CentrePort Wellington, a private company.
CentrePort offers facilities for general cargo and roll-on/roll-off car shipping services. The Port handles approximately 4,200 ships per year.
Major cargoes handled are:
• Forestry products (logs, veneer, and pulp)
• Petrol and chemicals
• Cement
• Wheat
• Fruit
• Soda ash
• Vehicles
The Port has a fully equipped container terminal and cargo wharves. Ten wharves are adjacent to the city business centre. There are dedicated coal and oil wharves and general cargo wharves. The port has cold storage and specialist storage for bulk powders, liquids, chemicals and petroleum. There are facilities for container storage and repair, and a packing/unpacking service is available. While stevedoring services are provided by a third party company.
Overseas berths are generally equipped with four to six cranes, a fixed 10-ton hydraulic crane and a floating crane with lifting capacity of up to 80 tons are available.
Investment in communications technology is on-going. The Port's interface Centric provides real time tracking of cargo movements, allowing customs and shipping companies to monitor cargo through the release process.
Facts of Interest
• The container terminal covers 23 hectares and is capable of holding 6,284 containers.
• CentrePort operates three tugs, Toia, Ngahue and Tiaki to manoeuvre ships into and away from berths. Occasionally, members of the public are able to enjoy leisure trips on the tugs.
• The city of Wellington lies on three fault lines and experiences regular small tremors, but quakes large enough to cause significant damage are expected by geoscientists only every 500 years or so.
---
---