Walvis Bay Port Information
Shipping a car to Walvis Bay? Great rates and important information found here.
Regular shipments via RoRo and Container direct to the Port of Walvis Bay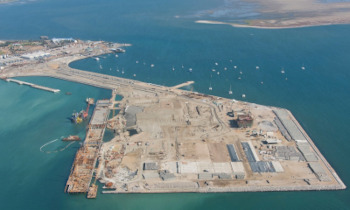 Port of Walvis Bay, Namibia
The coastal city of Walvis Bay in Namibia only exists because of its port, which has been of international signficance for centuries.
This is partly thanks to its natural deepwater harbour, which is protected by a sand spit known as Pelican Point, but also partly due to its proximity to the Cape of Good Hope. Prior to the opening of the Suez Canal, ships travelling from Europe to the Far East (or vice versa) would stop off at Walvis Bay to make repairs and take on provisions before (or after) navigating the infamously dangerous waters of the Cape.
More recently, the opening of a new container terminal in 2019 has helped ensure the Port has a busy and prosperous future. It is state-owned, and operated by the Namibian Ports Authority. Around 3,000 vessels call at the Port each year, though the volume of cargo handled is relatively small at six million tonnes – reflecting Namibia's low population density (see Facts Of Interest, below).
History
Boats have docked in the natural harbour here since time immemorial – certainly long before European settlers started to arrive in the late 15th Century.
The importance of the port to international shipping and trade routes meant that both Walvis Bay itself and Namibia more generally changed hands many times during the colonial era, coming under German, Dutch, British and South African rule before finally gaining full independence in 1990.
Works to modernise the port began in the late 90s, and in the last 20 years a successful regional development plan – including the creation of a Free Trade zone in Walvis Bay – has seen container trade through the Port increase from 30,000 containers per year in 2000 to 370,000 in 2016. The opening of the new terminal in 2019 has since boosted capacity to 700,000.
Facilities
The Port of Walvis Bay has eight berths, with a draft of 10m. Pilotage is compulsory for all vessels entering the Port, and four tractor and two pusher tugs are available, as well as a passenger launch that can seat 30.
The Port is equipped with fiixed and mobile cranes (including 100-tonne cranes) and a full range of chandlery and provisioning services are available at the Port, but there is no dry dock and ship repair facilities are limited.
There is also a dedicated berth for oil tankers – and in fact petroleum products destined for Namibia, Zambia, Zimbabwe and Botswana represent the lion's share of incoming cargo at the Port.
Facts of Interest
• Namibia is one of the world's least densely populated countries, with just 2.6 million people in an area the size of Germany, Poland and the Czech Republic put combined!
• Over the centuries, Walvis Bay has been known at different times as Walvisch Baye, Whale Bay, Walfish Bay, Walvish Bay, Walwich Bay and Walwisch Bay.
We offer Roll on Roll off and Container services for Car Shipping to Walvis Bay, Namibia. For a tailored estimate for your shipment, complete the quick quote form on this page.
---
---