Car Shipping to the Port of Veracruz, Mexico
Veracruz port information
Find out about the history of Veracruz port.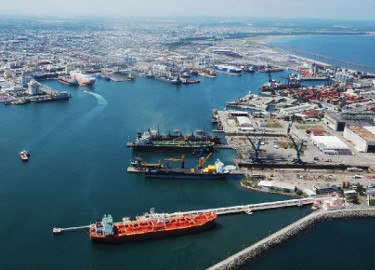 The Port of Veracruz (Mexico)
Veracruz has an official title of Heroica Veracruz. It is a major port city on the Gulf of Mexico and is located in the centre of the Mexican state Veracruz (also with the same name). The state itself has an abundance of natural resources including iron and copper, and is responsible for around 35 percent of Mexico's water supply
Veracruz is a popular seaside resort for both Mexican and foreign tourists. It is famous for having some very beautiful beaches.
History
The Port of Veracruz is the oldest and largest port in Mexico. It has a great deal of history. It was used primarily for imports and exports to Spain. Exported items included turkeys, beans, corn, avocados and cotton.
Imports from Spain included fava beans, wheat, rice, cattle, pigs, fabric and wine. The Port of Veracruz was known for having a rich and large merchant class.
It was so rich that during the mid 16th century, pirates were attracted here from Britain and Holland who were attracted to all the gold and silver that was then found in the Port of Veracruz. Invading pirates included Sir Francis Drake and Admiral Sir John Hawkins.
Later in the 19th century, trade to Europe became less popular and the important of the port waned. It was refurbished early in the 20th century.
Facilities
The Port of Veracruz handled 16.1 million tons of products during 2004. 75% of all port activities in Mexico takes place in the Port of Veracruz.
It handles a wide variety of cargo and the Port of Veracruz is a well-known gateway for the automobile industry in Mexico.
It features RoRo (Roll-on Roll-off) services and is conveniently close to car manufacturers.
It also has great access to both the import and export marketing within the US, Europe, Central and South America and the other ports within Mexico. There is easy truck access and a rail road spur within three miles of the plant site.
Facts of Interest
-

The Port of Veracruz was the first port equipped specifically for vehicle shipping (including RoRo).
-

The port has recently undergone a large expansion of its infrastructure and operations here have recently been expanded.
-

The state of Veracruz has an interesting blend of Spanish, Caribbean and African cultures, which all heavily influence the food and music in the area. It is considered by many to be Mexico's centre of music and dance and is a very lively place.
Find out more about our Roll on Roll off and Container Car Shipping services direct to Mexico.
.
---
---