Car Shipping to Tokyo Port, Japan
Information on the Port of Tokyo, History & Facilities
Regular shipments by RoRo and Container direct from the UK to the Port of Tokyo, Japan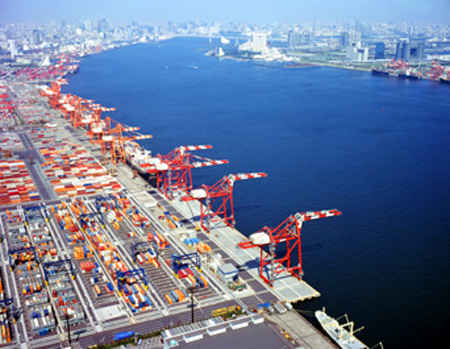 Port of Tokyo, Japan
Sitting on Tokyo Bay, between the estuaries of the Arakawa and Tamagawa rivers, the Port of Tokyo is the world's 35th largest container port. It handles around 100 million tonnes of cargo each year, including over 4.5 million TEUs' worth of containerised goods.
The Port is owned and operated by the Bureau of Port & Harbour, a division of the Tokyo local authority. The Port serves the city of Tokyo and the surrounding Shin'Etsu and Tohuku regions, whose combined population is in excess of 40 million people.
History
The site that now houses the Port of Tokyo was once a small fishing village named Edo. There has been maritime activity there since time immemorial, and by the 17th Century Edo had risen to become Japan's most important centre of trade and commerce.
During the Shogunate period the Port of Tokyo was closed to overseas shipping, but the port was opened up in 1858. Construction of the Port we see today began in 1906, with the first modern terminals opening in the 1920s and 30s. The Port suffered badly in Allied bombing raids during World War II, but was rebuilt after the war.
The port's first container terminal opened in 1967, to be joined by two further container terminals during the 1970s, when regular ferry services also began operating from the port.
Facilities
The Port of Tokyo today has four container terminals (one of which is privately owned and operated), two foodstuff terminals, two Ro-Ro terminals, five general cargo terminals and three passenger terminals.
Of the three container terrminals, Shinagawa is the oldest and offers three berths with a quay length of 333m. The other two public container terminals are Oi, which has seven berths and 2,354m of quays, and Aomi, with five berths and a quay length of 1,570m. The privately owned, single-berth Kamigumi Tokyo terminal has a quay length of 260m, and the four terminals between them have over 1.5 million square metres of outdoor storage space.
The two foodstuffs terminals, which opened in 1999, offer five berths over 1,060m of quayside, while the two Ro-Ro terminals have a combined quay length of 1,200m and space to store 22,000 cars at any given time. Between them they handle up to 3.5 million cars each year.
In the general cargo area, you'll find dedicated terminals for timber, building materials, logs and other bulk cargoes. These have a combined quay length of 3,500m and a storage area measuring 900,000 square metres.
Finally, there are three passenger terminals. Two of these, Tokyo Ferry Terminal and Takeshiba, receive only domestic vessels. All international cruise ships go to the Harumi terminal, which opened in 1991 and has four berths with a combined quay length of 807m.
Draft in the channel is 11.2m, with anchorages of up to 13.7m available, although quayside draft can be as shallow as 3.4m in some areas of the port. Pilotage is mandatory for all vessels entering and leaving the Port, with tugs available to assist if necessary.
Needless to say, the various terminals of this busy port are equipped with all the heavy lifting gear you'd expect, and a full range of chandlery and provisioning services is available at the Port, as well as a drydock for ship repairs.
Facts of Interest
• As one of the world's biggest, busiest and most bustling cities, Tokyo is naturally a popular port of call for cruise ships. Attractions of interest with the Port area itself include a maritime museum, the Meiji Shrine, and a fish market that is world-renowned among foodie types.
• According to a survey carried out by The Economist, the Port of Tokyo's dock workers are the most highly paid in the world.
• The ports of Chiba and Yokohama lie just 14 nautical miles to the west and 23km to the northeast, respectively.
Shipping your car to Japan? Find out about our UK to Japan car shipping services. We offer Roll on Roll off and Container Car Shipping to Tokyo, Japan. For a tailored estimate please fill out the quick quote form on this page.
---
---