Car Shipping UK to Madagascar
Regular shipments via RoRo and Container services direct from the UK
Information for car shipping to Madagascar, Port of Toamasina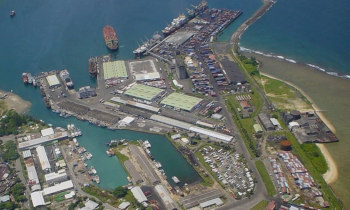 Port of Toamasina (Tamatave), Madagascar
Still often known colloquially by its former French colonial name of Tamatave, Toamasina – as it's officially called – has been Madagascar's most important port since the first European settlers established a trading post there in the 18th Century, attracted by the natural harbour which is formed by two coral outcrops.
The port today is fairly small by international standards, handling only around two million tonnes of cargo annually (compare that to, say, the 70 million tonnes of goods that pass through the Port of Manila each year). Nevertheless it is by far the busiest and most important port in Madagascar, welcoming over 600 ships per year and handling 80 per cent of goods that enter and leave the country, rising to 90 per cent for container traffic.
A monthly passenger service also operates out of the port, connecting Madagascar to La Réunion and Mauritius.
History
As already stated, there's been a port of some kind in Toamasina since the 1700s. Under state control until 2003, the port was privatised in 2004, and today it is managed by SPAT, the Société du Port à gestion Autonome de Toamasina.
The 2004 privatisation also saw the port getting the first major upgrade to its facilities since the 1960s, and the harbour was dredged to make the main channel deeper in 2007.
Facilities
See above: Toamasina may be a small port but it's perfectly formed, with a full range of up-to-date facilities. The port also includes an oil terminal, which is operated by GRT.
Maximum draft is 10m in the main channel and 12.2m in the oil terminal, with anchorages of up to 23m available. The harbour is (as mentioned above) surrounded by fragile coral, and so pilotage and tug services are compulsory for all ships entering and leaving.
Water, provisions and chandlery services are all available at the port, though dry dock and repair facilities are limited. There are several mobile and floating cranes, including two with a 100-tonne capacity, as well as two forklifts, six reach stackers and around 20 tractors and trailers – not to mention 12 hectares of outdoor storage.
Containers can be offloaded at a rate of 20 per hour, which despite Toamasina's size is on a par with other ports worldwide.
Facts of Interest
• Madagascar is the world's fourth-largest island, having split away from the Indian subcontinent (not the African mainland) some 88 million years ago.
• Over 90 per cent of Madagascar's wildlife is unique to the island, making it a popular travel destination for bird spotters and wildlife enthusiasts.
We offer Roll on Roll off and Container Car Shipping services direct to Toamasina, Madagascar. For a tailored estimate for your shipment, complete the quick quote form on this page.
---
---