Car Shipping to the Port of Tacoma, USA
Tacoma port information
Find out about Tacoma's history, facilities and more.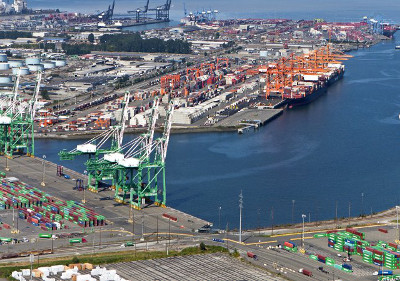 Port of Tacoma (USA)
The Port of Tacoma is located in Tacoma City, Washington in the USA. It is based on Commencement Bay and is an independent seaport and natural deep-water harbour. It encompasses 2,400 acres of the Tacoma Tideflats.
The Port of Tacoma is within the top 50 largest ports in the world, and also one of the largest ports in North America.
History
The Port of Tacoma was created by it's own Pierce County citizens in 1918 via a vote. It began as a much smaller port then, at just 240 acres but has since grown to 2400 acres. In 1919 the Pierce County citizens passed a $2.5 million bond issue to build new facilities and expand the port.
The area had first been used for shipping since 1853, before it officially became a port. In 1873, a decision was made by the Northern Pacific Railroad to set up a terminus at Commencement Bay, Tacoma. There were other potential cities that could have been chosen but Tacoma was the city of choice due to being very large, deep and there was plenty of tideland waterfront for expanding the port at a later date.
Had the Port of Tacoma not been chosen by the Northern Pacific Railroad, it may not be the port it is today. It was a significant milestone in setting up Tacoma as a centre for trade.
Facilities
Facilities Include..
• Marine Terminals
• On-dock rail yards
• Cargo-handling equipment
There are also warehouses, docks and other emenities available for leasing or developing. There are four main terminals with berthing facilities up to 2,700 feet.
Imports include automobiles (RoRo, Roll-On Roll-Off), electronics and toys. Exports include grain, forest and agricultural products.
In 2009 new RoRo services were introduced at the port, connecting Tacoma to bigger global markets. Wallenius Wilhelmsen Logistics (WWL) set up the new RoRo services.
The port was very busy during 2012 and 1.7 million containers moved through it. In international trade it contributed $46 billion.
Facts of Interest
-

The Port has an interest in wildlife and conservation. It recently cleaned up and restored its areas of natural habitats for fish and other animals, creating a natural segregation between the industrial activities of the port and the surrounding residential areas. It has invested $160 million in improving the local environment.
-

Grain is actually the port's biggest export (corn and soybeans).
-

The Port's top trading partner was China/Hong Kong during 2010.
We offer Roll on Roll off and Container Car Shipping services direct to the US.
View our US Car Shipping Guide here, or find out more about how we ship to the USA.
---
---