Sydney port information for Ro-Ro car shipping and Container Car Shipping.
Car shipping UK to Sydney, Australia.
Shipping your car to Sydney? Find out more about import regulations, shipping costs, and information about the port of Sydney (Kembla) Australia here. Post your car shipping enquiry online for an instant RoRo car shipping price from the UK. Autoshippers ship cars to Sydney by container every week and every 10 days by RoRo direct from the UK.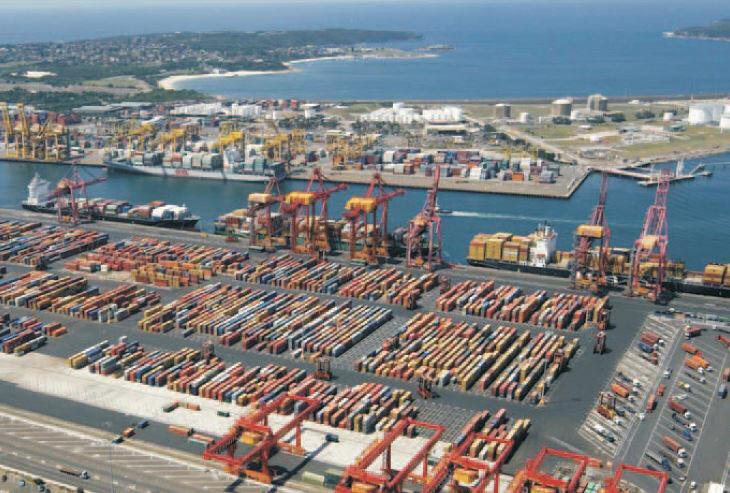 Port of Sydney
Sydney is the state capital of New South Wales in Australia. It is the most heavily populated Australian state.
There are three main ports at Sydney, these are Port Botany, Port Jackson and Port Kembla.
Port Jackson contains the beautiful Sydney Harbour and is managed by the New South Wales Maritime Authority. Here also lies the famous Sydney Opera House and Sydney Harbour Bridge.
The Sydney ports are drowned river valleys, also called Rias. These are long narrow river inlets, formed by partially submerged land. Port Jackson alone is 55km square in size, 19km long. The channel to Port Botany is 213m wide with a depth of at least 15km.
Port Kembla is located 80km south of Sydney and is a specialist industrial port with connections to all of the major freeways and railway lines.
History
The Sydney ports were originally colonised by various tribes before first being discovered by European Lt James Cook in 1770.
Interestingly, in Cook's ship log he wrote upon discovering Port Jackson "at noon we were...about 2 or 3 miles from the land and abreast of a bay or harbour within there appeared to be a safe anchorage which I called Port Jackson." Port Jackson became the place of the first European settlement in Australia.
Before 1960, all international shipping to Sydney went via Port Jackson.
Faclilities
At Port Jackson there are facilities for RoRo vehicles (roll-on roll-off).
It also has 11 berths and handles many different types of shipping vessels.
These include:
• Dry bulk
• Wet bulk
• General cargo
• Cruise.
At Port Botany there are two container terminals with six container vessel berths, as well as a bulk liquids berth. Port Botany's facilities account for over 70 per cent of all the trade at Sydney Ports Corporations.
Port Kembla is a major industrial port and also has Roll-on Roll-Off handling services. It can be used for motor vehicle loading, discharge and storage.
Sydney Harbour is a very popular cruise destination and is the only port in Australia with two dedicated cruise ship terminals.
Facts of Interest
• There is a shark named after Port Jackson called The Port Jackson shark (Heterodontus portusjacksoni). This species is unlikely to attack, mostly eating a diet of mollusks, fish and sea urchins.
• The Port Jackson willow (Acacia saligna) is a small native tree widely spread throughout the South West of Australia.
• Sydney Ports is expanding the container terminal facilities at Port Botany, and there are also plans to expand the bulk liquid handling facilities as trade is increasing steadily through the Sydney ports.
• Glebe Island and White Bay are also key facilities within the Sydney Port areas. They are mainly responsible for receiving, storing and distributing dry goods via their 7 berths.
---
---