Car Shipping to the Port of Santos, Brazil
Santos port information
Find out about the history of Santos port.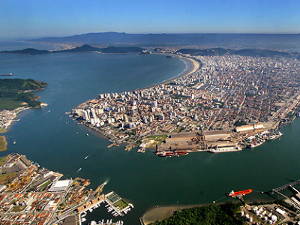 Port of Santos (Brazil)
The Port of Santos is located in the city of Santos, a municipality in the Sao Paulo state of Brazil. It is partially located on the island of Sao Vicente, which includes both Santos and the city of Sao Vicente, and partially on the mainland.
Santos is the main city in the metropolitan region of Baixada Santista. The city is split into both urban and rural areas. The landscape of the port is adorned with canals over a hundred years old.
History
A Portuguese nobleman named Bras Cubas founded the city of Santos in 1546. The location was picked because it was a convenient resting point for people crossing the Serra do Mar mountain range. The first railway linking the port to the state capital was completed in 1864.
In the 19th century, the Port of Santos was known as the "port of death" because of outbreaks of Yellow Fever. Ships would often avoid docking at what was then a wooden plan port. The entire area was prone to illness because of the floods that often wreaked havoc in the city, exacerbating the spread of disease.
In the early 20th century, a major overhaul was carried out to create the port's modern structure, which can still be seen today. This eliminated the risk of diseases, as well as provided the port with a new industrial-age infrastructure. The current structure is considered Brazil's most modern.
Facilities
Santos is the world's 39th largest port in terms of container traffic, and also ranks as South American's largest. The port handled over 72 tons of container traffic in 2006 alone to achieve this rank.
The port includes 36 warehouses, cranes, airports, and medical facilities located either at the port or just off the port.
Facilities include:
• Three container terminals including handling facilities for solid and liquid bulk, containers and general loads.
• Bulk cargo terminals
• Road and railway connections
• Five tug boats
• Tanker terminal
• RoRo services (Roll-on Roll-Off)
Facts of Interest
-

The bubonic plague once nearly wiped out the entire town in the 19th century.
-

Santos is home to the largest beachfront garden in the world, which measures 5335 metres in length.
-

Santos has a tropical rainforest climate in which there is no real dry season. All months of the year average more than 60mm of rainfall during the entire course of any given year.
-

The port handles a very large portion of the world's coffee exports which accounts for much of its wealth.
We offer Roll on Roll off and Container Car Shipping services direct to Brazil.
.
---
---