Car Shipping UK to South Korea, Port of Pyeongtaek-Dangjin
Pyeongtaek-Dangjin Port Information
Regular shipments via RoRo and Container direct to the Port of Pyeongtaek-Dangjin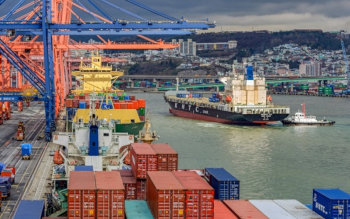 Port of Masan, South Korea
Located at the mouth of the Ansong River, where it flows into the Asan Bay in the Yellow Sea some 64km south of the nation's capital Seoul, Pyongtaek isn't just home to one of South Korea's busiest ports – it also houses a large Korean naval base, as well as substantial numbers of US troops.
The Port hasn't published official cargo statistics since 2013, but in that year it handled just just under 110 million tonnes of cargo in total, including nearly 520,000 TEUs' worth of containerised goods and 1.5 million automobiles. Some 11,700 ocean-going vessels visited the port in the same time period.
The Port is state-owned, and operated by the Pyeongtaek Regional Office of the Ministry of Oceans and Fisheries.
History
Given its rivermouth location and proximity to Seoul, it's unsurprising that Pyeongtaek (or Yeondalbugok, or Busanhyeon, as it's also been known over the centuries) has featured a harbour/port of some kind since at least as far back as 100 BC, according to written records.
The Port we see today, though, opened in 1986. More, larger berths were steadily added during the 1990s, and the first container ship pulled into port in October 2000. In August 2008 the Port got its first international passenger terminal, followed by a dedicated international passenger pier in 2005.
Since then further berths have been added to accommodate ever larger vessels, while in 2009 the Port's hinterland was designated a free trade zone, since when transshipment traffic has doubled.
Facilities
The Port of Pyeongtaek-Dangjin has five main piers – Songak Pier, East Pier, West Pier, Gondai Pier and Dolphin Pier – offering a total of 52 berths.
Songak Pier has 13 berths: nine of these handle steel, with one each for iron ore, coal, tar and slag. Ships up to 200,000 DWT can be accommodated at Berth 4 and ships up to 100,000 DWT at Berth 5. Draft is 12m-14m and there are 60,000 square metres of storage.
East Pier has 16 berths: seven are for container ships and five handle cars exclusively, with three for miscelleneous cargoes and one for steel. Average draft is 12m and heavy lifting gear includes a 300-tonne harbour crane, four post-Panamax and seven gantry cranes. There's also a 5,000m2 bonded warehouse and 480,000 square metres of outdoor storage.
West Pier and Gondae Pier, with nine berths each, mostly handle bulk goods with some miscellaneous cargo, while the five berths at Dolphin Pier exclusively handle liquid gases (LNG and LPG), fats and oils.
Pilotage is compulsory for all foreign vessels in excess of 500 DWT.
Facts of Interest
• During the Korean War, the Battle of Pyeongtaek on 6 July 1950 was an important early victory for North Korean forces.
We offer Roll on Roll off and Container Car Shipping to Masan, South Korea. For a tailored estimate for your shipment, complete the quick quote form on this page.
---
---