Shipping Cars to Piraeus, Greece
Port of Piraeus Information, History & Facilities
Competitive rates and regular shipments by RoRo and Container direct to the Port of Piraeus, Greece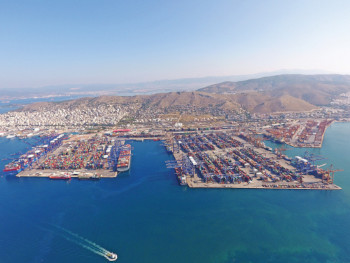 Port of Piraeus, Greece
You can be forgiven if you don't recognise the name of Piraeus: it's always been a port, but what was once a small coastal town was subsumed by the city of Athens long ago. It is, however, both Greece's most important port, handling over 20 million tonnes of cargo each year, and the centre of the Greek shipping industry. Greece has the world's largest merchant navy, and shipping is a vital contributor to the Greek economy.
As well as being an important point of entry/exit for goods, Port of Piraeus is also the world's busiest passenger port, with over 20 million people passing through each year. Of these, around 1.5 million are foreign tourists: the vast majority are Greek citizens using local ferries.
History
Located on a natural harbour, Piraeus has been used as a port since pre-Christian times, and in ancient times was the base for the mighty Athenic fleet. The port then fell into disuse for many centuries, before experiencing a revival following the establishment of the First Hellenic Republic in 1822, and the opening of the Athens-Piraeus Railway in 1869.
The formerly state-owned Port was privatised in 2009, following the global crash of 2008. This and other government sell-offs injected 50 billion Euros into the struggling Greek economy, bolstered by another 100 million Euros per year under the terms of the COSCO lease.
Since the Port was privatised, and particularly since COSCO took over the running of container terminals 1 and 2, there has been substantial investment and redevelopment, aimed at boosting container traffic.
Facilities
Today, the Port of Piraeus has three container terminals, with a total annual capacity of 6.7 million TEUs. There are also dedicated cargo and passenger terminals, as well as two car terminals which between them handle nearly 500,000 vehicles each year.
Draft is over 23m in the channel, but only 10m at the cargo pier and oil terminal, although anchorages of up to 12.2m are available. Pilotage is compulsory for all vessels entering and leaving the harbour, with assist tugs on hand if required.
As befits such a large and busy port, Piraeus can provide a full range of longshore, provisioning and repair services, including a medium-sized dry dock, while its floating cranes include machines with a capacity of over 100 tonnes.
Facts of Interest
• Pireaus' 15-century-long period of decline was due to the city being destroyed and ransacked several times over by Romans, Spartans and Goths (among others) during ancient times.
• A huge statue of a lion looked down over the Port from 360BC until 1687, when it was captured by the Venetian navy. The statue still resides at the Venetian Arsenal, but no one has ever managed to decipher the mysterious runes carved into it by Viking raiders during the 12th Century.
We offer Roll on Roll off and Container Car Shipping to Piraeus, Greece. For a tailored estimate for your shipment, complete the quick quote form on this page.
---
---