Car Shipping Services to the Port of Norfolk USA
Facts and Information for Car Shipping to Norfolk Port
Here at Autoshippers we operate container car shipping services direct from the UK to Norfolk, USA. We also offer services for international car shipping to the USA by container or Ro Ro.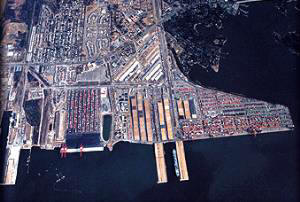 Port of Norfolk (USA)
Norfolk is a wide natural harbour at Chesapeake Bay, the largest estuary in the United States, on the banks of the Elizabeth River. The whole area is known as Hampton Roads or Tidewater and provides a year round frost and ice free harbour.
The Headquarters of the US Fleet forces Command is located in the city, as is NATO's Allied Command Transformation and the US Joint Forces Command.
History
Native Americans controlled the area of the Port of Norfolk, as part of the powerful Powhaten Renape confederacy, which was a subdivision of the Algonquin Nation. By 1646 the English had broken the confederacy and driven the tribes from the area.
An indentured servant name Adam Thoroughgood came to the area from Norfolk, England. He achieved his freedom and eventually became a landowner who was granted a parcel of land in 1636, which he named after his birthplace. By 1775, the Port of Norfolk was an important export port for goods bound for the British Empire and was a loyalist base during the American Revolution.
In the later 20th century, retail and commercial units drew business to the waterfront area, which was renovated and developed.
In 2014, the Panama Canal will open a new set of locks, which will permit larger ships from Asia access to the US east coast. An east-west rail service will open at Norfolk to service this new trade.
Faclilities
The Norfolk International Terminal on the south east bank of the river is operated on behalf of the Virginia Port Authority. It is the largest of the Port of Virginia Terminals and has a roll-on/roll-off berth with a berthing distance of 900 metres.
A 1.38 acre paved storage area is available for vehicle storage, and there are three public storage warehouses.
Fourteen ZPMC cranes at Norfolk International Terminal have a 245 ft reach, and are among the most efficient cranes in the world. They are prepared for the largest ships, and capable of handling ships loaded 27 containers wide.
The terminal has five berths, three finger piers, a roll-on/roll-off berth, and covered and container storage, refrigerated storage and dry bulk storage, totalling 34 thousand TEUs (Twenty-foot equivalent units).
Facts of Interest
• Norfolk International Terminal was originally a disused Army Base, purchased in 1965.
• Virginia Port Authority won a Gold Medal for sustainability in the Governor's Environmental Excellence Awards in April 2013.
• Virginia Ports Terminals are certified under the ISO-14001 environmental certification process.
---
---