Newcastle Port Information and Facilities
Shipping a car to Australia from the UK? Find Newcastle port facilities, facts and figures here.
Autoshippers offer weekly car shipping services to Newcastle direct from the UK on weekly container vessels and regular Roll on Roll off services.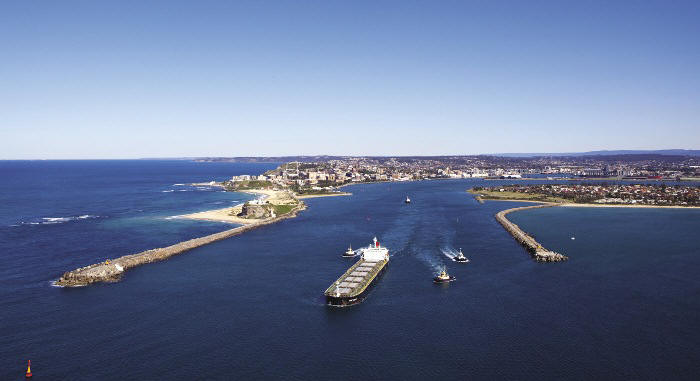 Port of Newcastle
The Port of Newcastle is the port for the exportation of coal and remains the largest coal exporting port in the world today. At Autoshippers our team has over 40 years of experience in shipping cars to Australia and while we don't get many car shipments sent directly in to the Port of Newcastle we do still think this historical port deserves a mention!
Newcastle Port, New South Wales is situated 162 kilometres north east of Sydney, at the mouth of the Hunter River, in the east central part of the Sydney Basin. The whole Hunter Valley is very rich in natural coal deposits. A green belt is in place, limiting development in the area, to protect plants and wildlife.
History
The area was originally home to aboriginal people, until Europeans first settled there in the late 18th century.
Newcastle Port was the site of the first export from Australia when 50 tonnes of coal was sent to Bengal in 1799. Coal exports have formed a major trade for the Port of Newcastle since. In 2011/12, coal exports totalled $15.82 billion.
Coal was mined by the most dangerous convicts (many from Newcastle Upon Tyne, in the UK) as a severe punishment, and became known as a "hellhole". Penal law was finally lifted in 1823, and the colony became a pioneer settlement.
Early steamers plied between Newcastle and Sydney, Brisbane, Melbourne and Adelaide. Copper, soap and steel have also been regular cargoes.
Today, Newcastle remains the world's largest coal export port in the world. Attempts to increase export tonnage of coal are opposed by environmentalists.
Faclilities
The Port handles over 1860 ship visits per year, through 19 operational berths, 11 of which are available for general cargo and containers.
The port facilities include:
• Coal terminals
• A bulk liquid terminal
• Storage sheds
• Road and rail connections.
Cape sized coal carriers are the largest ships handled at Newcastle. They can load between 90,000 and 180,000 tonnes. They are called Cape sized because they cannot travel through the Panama or Suez Canals. Instead they go round the Cape of Good Hope and Cape Horn.
The harbour depth is 15.2 metres. Vessels sailing to the Basin area (grain, general cargo and heavy lift berths) take about 30 minutes to sail the 3.5 kilometres from the port entrance.
Facts of Interest
• A record amount of 108.26 million tonnes of coal was exported in 2010-11.
• More than 40 commodities are traded through the port.
• The Port came briefly under fire from a Japanese submarine during the Second World War.
•Newcastle experienced an earthquake in 1989, which killed 13 and injured 162.
---
---