Port of New York Information and History
Read about the facts, history and facilities of the New York port
We offer car shipping services direct to the port of New York from the UK.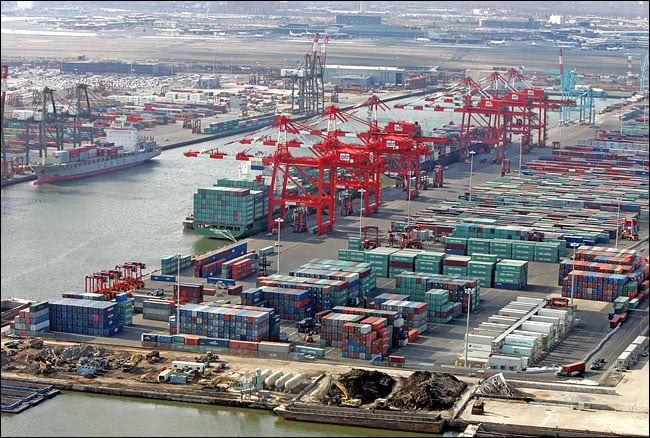 New York Port (USA)
New York Port is a harbour located in what is often known as the heart of the United States, on the eastern coastline. It sits at the mouth of the Hudson River where it empties into New York Bay, and is a part of both the port of New York and New Jersey. It is also one of the largest natural harbours in the world.
History
The aboriginal population of the 16th century once used the waterways for fishing and travel. This tribe was known as the Lenape, and were first discovered in 1524 by Giovanni de Verrazzano. He anchored in what is now called "The Narrows". This is a strait between Staten Island and Long Island.
In 1624, the first permanent European settlement was started and construction of the first wharf was ordered on the bank of the lower East River. In 1824 the first American dry dock was completed on the East River. Because of it's location and depth, the Port rapidly grew and by 1825 it was the most important transshipping port between the American interior and Europe.
Between 1892 and 1954 millions of immigrants arrived in New York Harbour, passing the Statue of Liberty along the way.
The harbour was also a booming port during World War II, when eleven hundred warehouses, 575 tugboats, and 39 active shipyards were built on the docks surrounding the area. The most important of all these was probably the New York Naval Shipyard, which was founded in 1801.
All of these items combined made New York Harbour the busiest port in the entire world during this time.
Facilities
Immigration ships, as well as cruise ships, frequently dock at New York Harbour, which consists of nearly a 25-mile radius. It is also used as a dock for container ships and commuter ferries. This port is often said to be one of the finest natural harbours in the world, and is by tonnage the third largest in the United States. It is also the busiest on the East Coast of America.
Facilities include
• Four container terminals
• Six bulk cargo and marine transfer facilities
• A car float
• Cross harbour tunnel
• Barge to rail facility
• Three cruise terminals
• Ferries
• RoRo services (Roll-on Roll-off)
Facts of Interest
-

The Statue of Liberty is located in New York harbour.
-

It is under the jurisdiction of the bi-state Port Authority of New York and New Jersey.
-

There are over twenty lighthouses located within this port.
-

America's first facility for container shipping opened here in 1958.
Looking to ship your car? We offer Roll on Roll off and Container Car Shipping services direct to the US.
View our US Car Shipping Guide here, or find out more about how we ship to the USA.
---
---