Car Shipping from UK to Mozambique, Port of Maputo
Information for shipping your car to Mozambique
Regular shipments via RoRo and Container direct to the Port of Maputo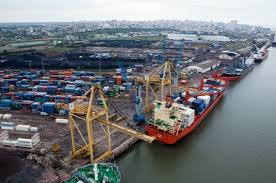 Port of Maputo, Mozambique
Located at the point where four different rivers – the Infulene, Matola, Mbuluzi and Tembe – flow into the Indian Ocean, the Port of Maputo is the largest and busiest port in Mozambique. Over 15 million tonnes of cargo pass through the port annually, destined to and from not just Mozambique itself, but also neighbouring, landlocked Zambia, as well as the northern part of South Africa.
An extensive programme of investment and regeneration is currently ongoing at the port, which is managed by the Maputo Port Development Company (MPDC), a joint venture between South Africa's Grindrod Bank and terminal operators DP World.
History
The first settlement at Maputo was a fishing village established by the Tsonga people in ancient times, but the city as we know it today sprang up around a fort built by Portuguese colonists in the late 18th Century. It has been the capital of Mozambique since 1898.
The Port fell into disuse and disrepair during the Mozambican Civil War (1977-1992), and by 2002 was handling just 1.2 millon tonnes of cargo annually. But redevelopment works, and in particular the dredging of the Port's main channel to make it accessible to larger ships, have seen trade build back up again almost to its 1971 peak of 17 million tonnes. It is hoped that this figure will reach 50 million by 2030.
A new dedicated oil terminal is currently under construction at nearby Technobanine Point.
Facilities
There are two main terminal areas, one for bulk goods and one for general cargo, with the latter also handling car carriers and cruise liners. Draft in the main channel (since redredging was completed in 2017) is 14.4m, while draft at the different berths and quays is between 9m and 12m. Pilotage is compulsory for all vessels and one 40-tonne and two 60-tonne tugs are available.
A full range of longshore, provisioning, refuelling and chandlery services are available at the port, as are fixed and mobile cranes with a capacity of up to 100 tonnes. Repair and dry dock facilities are, however, fairly limited in comparison to larger ports.
Local rail and road connections have also recently been modernised alongside the port itself, so there are good transport links to inland Mozambique, South Africa and Zambia.
Facts of Interest
• Maputo is named after a Mozambican river, but has only been called that since independence in 1975. Before then it was known as Lourenço Marques, after a 16th Century Portuguese explorer.
We offer Roll on Roll off and Container Car Shipping services direct to Maputo, Mozambique. For a tailored estimate for your shipment, complete the quick quote form on this page.
---
---