Montevideo Port Information and Car Shipping Facilities
Shipping a car to Uruguay, Montevideo from the UK? Find port facilities, facts and figures here.
We ship cars, trucks and other motor vehicles direct to Montevideo, Uruguay via Roll on Roll off and Container Shipping. See below for more information on Montevideo port.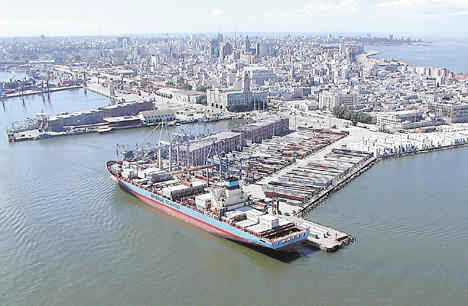 Port of Montevideo
Puerto de Montevideo is a deep natural harbour suitable for ships of deep draught, located on the north bank of the estuary of the Rio de la Plata (Plate River), on the Atlantic Ocean. One of South America's busiest ports and the Chief port of Uruguay, Montevideo plays an important role in the economy there.
History
There is some controversy over where the name Montevideo came from. Some variation of I saw (vide) a mountain (monte) is probable, but there is debate which mountain is referred to and who coined the name originally.
A fortress was established here by Bruno Mancio de Zabala, Governor of Buenos Aires, to counter the presence of the Portuguese. In 1776, the Spanish made Montevideo their naval base covering the south Atlantic.
Montevideo became capital of Uruguay in 1828.
A major battle in the second world war, The Battle of the River Plate, occurred here in December 1939, when the German pocket battleship Graf Spee was engaged by 3 Royal Navy cruisers. This was a major propaganda victory for British forces.
A report published by Mercer Human Resource Consulting in 2007, cited Montevideo as providing the highest quality of life of any city in Latin America.
Faclilities
Port of Montevideo is operated by Administracion Nacional de Puertos (ANP). In 2008, 5,200 vessels called at Montevideo, including 819 container vessels, 113 barges and 101 cruise ships.
The port has 13 wharves, with a total length of almost 3,800m.
Muelle (wharf) Maciel, is 382 metres long with a depth of five metres, and serves the passenger terminal and ships serving the Montevideo-Buenos Aires route.
The pier head at Cabecera Muelle A is 50 metres long with two berths totalling 303 meters in length and alongside depth of 10 metres.
Muelle Central (Central wharf) Basin 1 is a total of 492 meters long with alongside depth of 10 metres. It has 3 berths handling containers and roll-on/roll-off vessels.
Muelle Central Basin 2 handles solid bulk and containerized cargoes. Refrigeration is available.
Fish and oil are handled at other wharves.
Facts of Interest
• Montevideo has been called "the Switzerland of the Americas" because of its economy and banking structure. However, it was hit hard by the world economic crises at the end of the first decade of the 21st century.
• Montevideo is home to 1.3 million of Uruguay's 3.5 million population.

---
---