Melbourne Port Information and Facilities for Car Shipping
Shipping a car to Melbourne from the UK? Find port facilities, facts and figures here.
Autoshippers offer weekly car shipping services to Melbourne direct from the UK on weekly container vessels and regular Roll on Roll off services. Melbourne is now recognized as the main car shipping port for Australia and we have detailed some facts and figures about the port.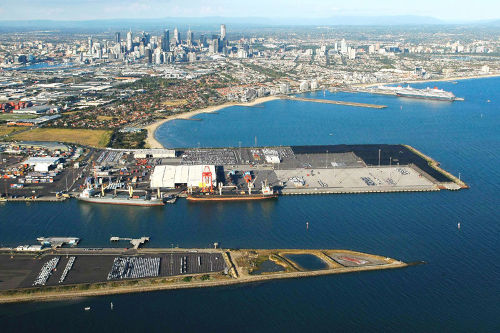 Port of Melbourne
The Port of Melbourne is now the biggest general and container port in Australia. It is located in the state of Victoria, South Eastern Australia, at the north of Port Philip Bay. It covers an area of the mouth of the Yarra River.
Over 37% of Australia's container trade moves through it, and over a year there are around 3100 ship calls. It handles an amazing $90 million in exports on an average day. It also ranks in the top 50 container ports worldwide..
History
The Yarra River used to be too difficult for ships to navigate down so in 1877, the government in Victoria decided to make the river easier to sail down. They employed Sir John Coode, an English engineer, who resolved to change the course of the river and cut a canal south of the original river course. Doing this made the river wider and shorter, meaning ships were then able to use it.
The port itself was officially built in 1889 and spreads over an area of 143,000 metres square. Between 2008 and 2009 the channel was widened further to allow larger ships to enter the port.
Faclilities
The port is managed by the Port of Melbourne Corporation (PoMC).
The port uses the latest handling methods and features 34 commercial berths over:
• 5 man-made docks
• River wharves
• Gellibrand pier at Williamstown
• Station pier at Port Melbourne.
There are two modern international container terminals serviced by the berths. There are also berths servicing cargoes that include:
• Timber
• Motor vehicles (Roll-on Roll-off facility)
• Dry cargoes
• Liquids
The port of Melbourne is a vital link to a complex freight transport system including networks of roads, rail, and other sea methods of transport. The value of these links gives the port it's competitive advantage and value over other Australian ports. The State of Victoria also highly relies on the Port of Melbourne for much of its trade. The port's container trade has been growing rapidly, with an annual growth rate averaging at 6.3%
Facts of Interest
• The Port of Melbourne will be at full capacity in 2015. A new expansion project worth $1.2 billion was announced in 2012 and involves building a new container terminal with a far higher capacity. This project is expected to finish in 2016.
• A watershed industrial battle took place at the Port of Melbourne in 1998 between Patrick Corporation and the Maritime Union of Australia (MUA).

---
---