Car Shipping UK to South Korea
Masan Port Information - Find Great Rates and Important Info Here
Regular shipments via RoRo and Container direct to the Port of Masan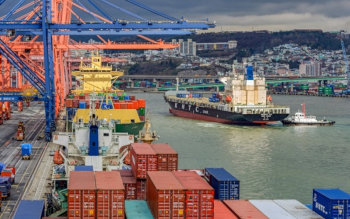 Port of Masan, South Korea
Though it's still called the Port of Masan, this Korean port actually lies in the city of Changwon – the former cities of Masan and Jinhae having been officially subsumed into neighbouring Changwon in 2010.
Masan lies just 35km from Korea's busiest port, Port of Busan, so cargo traffic is comparatively low at just 10 million tonnes. Nonetheless it's an important destination both for container traffic, and for vessels carrying raw materials to, and products from, the Changwon Industrial Zone, which directly abuts the Port.
The Port covers an area of 14 square kilometres, and includes 28km of coastline. It is state-owned, and operated by the Masan Regional Office of the Ministry of Oceans and Fisheries.
History
There has long been a harbour or port of some kind in the area. It was from Masan, for instance, that the Kublai Khan launched a failed invasion of Japan in 1280 – a mission that involved 25,000 Mongol and Korean warriors, and over 900 ships.
The modern port, however, was opened in 1899. Since then, the Port has twice been at the heart of historic events: once in 1960, when a series of police brutality incidents led to mass protests, the resignation of the then-President and the formation of Korea's short-lived Second Republic, and again in 1979, when workers at the Port fought succesfully for the right to unionise.
Facilities
Draft is 9.4m-10m in the channel, and 11m-12.2m at the cargo piers. Pilotage is mandatory for all vessels entering and leaving the port.
A dedicated container terminal services regular container lines to Russia, China, Japan, and other countries across southeast Asia. Here you will find fixed, mobile and gantry cranes with capacities of up to 100 tonnes. There is also an automobile terminal with space to accommodate up to 80,000 vehicles.
As well as the above, there are eight general cargo piers offering a total of 16 berths. Some container traffic comes here, but the majority of their throughput consists of scrap metals, ores, frozen fish, timber and heavy machinery. There are also a further nine single-berth piers which handle a solitary cargo: three for cement, two apiece for oil and iron, one for machinery and one for "materials of fiber".
A full range of longshore, provisioning and chandlery services are available, but there is no dry dock and ship repair facilities are limited.
Facts of Interest
• Masan was formerly known as Happo, and this name is still sometimes heard today, as is the compound 'Masan-Happo'.
We offer Roll on Roll off and Container Car Shipping to Masan, South Korea. For a tailored estimate for your shipment, complete the quick quote form on this page.
---
---