Lyttelton Port, New Zealand. Car Shipping Services to Christchurch
Lyttelton, Christchurch port information.
Autoshippers operate fast and frequent container car shipping services direct from the UK to Lyttelton. We also offer regular Roll on Roll off (RoRo) car shipping to the port of Lyttelton.
You can find out more information about Lyttelton port below or if your are arranging to ship your car to New Zealand via Christchurch please do not hesitate to call us or post your Car Shipping enquiry online here. Our New Zealand agents can also arrange export shipping FROM Lyttelton.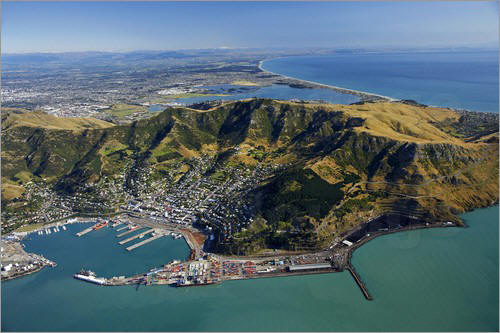 Lyttelton Port (New Zealand)
Lyttelton is a port town and regarded as a heritage rich area in New Zealand. It is located on the east coast of the South Island of New Zealand. The port itself is a hub of trade and a vital cog in the global transport network. It prides itself in offering a diverse range of trades and shipping services to importers and exporters. The port is the major trade gateway to the South Island.
History
The earliest history for Lyttelton dates back to when some moa bones were discovered from the year 1250. The Maori were a tribe of people living there before Lt James Cook discovered the land in 1770. In August 1849, Lyttelton began being used as port. It became established as a land point for seafarers visiting the area of Christchurch and it soon came to be regarded as the "Gateway to Canterbury." In 1877, Lyttelton port became the main port of Canterbury and Christchurch and was officially opened by the Lyttelton Port Company. They also introduced the Port Companies Act in 1988.
In the 1970s the port was chosen as one of South Islands main ports, and as such it was dredged and upgraded to allow for containerisation.
Facilities
Cruise ships regularly visit Lyttelton port. It also handles 34% of New Zealand's exports, and 61% of imports. It employs around 450 staff and is open 24 hours a day, 365 days a year.
The port is a primary port for energy shipments from the South Island of New Zealand. For the past 100 years, large quantities of South Island coal has been shipped from Lyttelton port and for the past 50 years it has provided natural gas and petrol. The coal facility is the largest in New Zealand.
Thanks to improved efficiencies, the business activity in the port has grown by 114% in the last decade and the good news is continued growth is predicted for the future.
• 4 heavy-duty concrete berths suitable for containerised cargo, multi-purpose vessels, conventional vessels and our roll-on/roll-off service.
• 8 more berths for general cargo and an oil berth.
• Motor vehicle terminal
• Plant hire
• Liquid bulk terminal
• Weighbridge
Facts of Interest
• In 2009, Lyttelton was listed as a Historic Area on the Historic Places Trust register and defined as "an area of special or outstanding historical or cultural heritage significance or value."
• Lyttelton has been subject to some earthquake damage to its historic buildings over the years.
The famous Lyttelton Timeball Station which advised mariners of the time on arrival of their ships at Lyttelton port was unfortunately destroyed by the most recent earthquake. Work is underway to restore it to its former glory.
---
---