Shipping Cars to Nigeria from the UK
Information for car shipping to Nigeria, Port of Lagos
Regular shipments via RoRo and Container services direct from the UK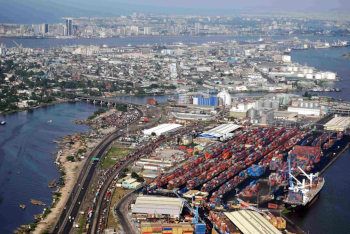 Port of Lagos, Nigeria
Located on Gulf of Guinea in the Atlantic Ocean, the city of Lagos has been a port since time immemorial. Today, the Port of Lagos serves as an important point of entry for goods coming into Nigeria and into west Africa more generally, and is also where most of the crude oil that is so vital to the nation's economy (representing 14 per cent of GDP and 90 per cent of foreign exchange earnings) is exported from.
The Port of Lagos is split into three sections: Lagos Port, Apapa Port (although these first two are sometimes considered as one facility) and Tin Can Island. The three sections abut each other, and all three are owned and managed by the Nigerian Ports Authority.
History
As stated above, there has been a port of some kind in Lagos since before written records began. Lagos/Apapa port as we would recognise it today was first opened in 1913, with dredging to create deep-sea berths beginning in 1921.
The more modern Tin Can Island Port, with its dedicated bulk goods and ro-ro facilities, opened in 1997.
Facilities
Today, container traffic is mostly handled by five dedicated terminals in Apapa Port, the largest of which is operated by the AP Moller-Muersk group. There are also facilities here for handling bulk goods, although the majority of such cargo goes instead to Tin Can Island, which also deals with the port's ro-ro traffic.
As one of the busiest ports in sub-Saharan Africa, the Port of Lagos can offer all the cargo-handling, chandlery, provisioning and repair services you'd expect to find at any major international port. There are also several oil refineries and related industrial facilities located very close by, reflecting the importance of the oil trade to Nigeria's national economy.
A full berth-by-berth breakdown of facilities, giving draughts, key lengths and details of who owns/operates each one, can be found on the NPA website.
Facts of Interest
• Lagos was traditionally the capital of Nigeria, but in 1991 that role was shifted to Abuja, some 750km (by road) to the northeast, though Lagos remains the nation's most important business and commercial hub.
• Nigeria has one of the youngest populations in the world, with over 90 million of its 206 million inhabitants currently under the age of 18.
We offer Roll on Roll off and Container Car Shipping services direct to Lagos, Nigeria. For a tailored estimate for your shipment, complete the quick quote form on this page.
---
---