Car Shipping Services Jacksonville, USA
Port of Jacksonville Information For Container and Ro Ro Car Shipping
Here at Autoshippers we operate container car shipping services direct from the UK to Jacksonville, USA. We also offer services for international car shipping to the USA by container or Ro Ro.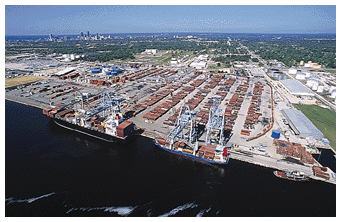 Port of Jacksonville (USA)
Jacksonville is an international sea trade port on the St Johns River in Florida, 40 km south of the state border with Georgia. The city of Jacksonville is the largest by area in Florida, and much of its economic activity is based around the St Johns River and the port. The port produces $1.38 billion for the local economy and supports 10,000 jobs.
History
Archaeological investigations suggest the area of Jacksonville has been populated for around 12,000 years. The first European mention of the area is in a map of 1502. Seminole Native Americans occupied the area when it came under the jurisdiction of the British in 1753.
A great fire in 1901 destroyed much of the development at Jacksonville Port, and necessitated rebuilding. During the Second World War, the US Navy established bases there, today forming the largest military presence in the United States.
The Jacksonville Port Authority was established in 1963 by act of federal government.
Faclilities
The Port of Jacksonville Authority operates the port and is also known as JAXPORT. The port authority operates three publicly owned cargo facilities and one cruise terminal. The cargo terminals handled 8.6 million tons of cargo in 2012.
The three cargo facilities handle dry and liquid bulk, break-bulk, Roll-on/Roll-off vehicle shipping and containerized cargo. Eighteen cranes, bulk storage and refrigeration are available.
Container traffic represents approximately 60 per cent of cargo handled through the port.
The port has facilities to handle bulk storage of liquids and dry bulk materials, as well as heavy lift project cargo. An intermodal transfer facility is planned to move containers directly between vessels and trains.
The Blount Island and Dames Point Operations covers 754 acres and handles roll-on/roll-off services, heavy lift, break-bulk and liquid bulk cargoes. Five 50-ton, one 45-ton and two 40-ton cranes and a 112-ton gantry whirly cargo crane are available.
The Talleyrand Marine Terminal also handles roll-on/roll-off services. Talleyrand has six container cranes and an on-berth rail service, and warehousing of 46,000 square metres.
Facts of Interest
• Jacksonville gets its name from Andrew Jackson, an early American President.
• Jacksonville enjoys a subtropical climate, and has not experienced significant damage from hurricanes.
• The Port has a security force on attachment from the Jacksonville Sheriff's Office comprising 11 officers and two sergeants.
• There are also US Customs Officers and Border Patrol Agents on site.
---
---