Port of Izmir - Car Shipping to Turkey
Port of Izmir Information, History & Facilities
Great rates and regular shipments by RoRo and Container direct to the Port of Izmir, Turkey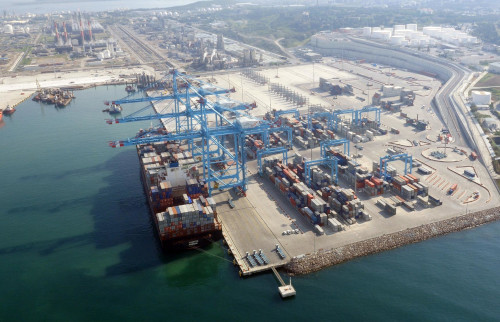 Port of Izmir, Turkey
Situated on the Aegean Sea, on Turkey's western seaboard, Izmir is the country's third largest city (after Istanbul and Ankara) and its most important port, handling nearly one-third of all goods entering and leaving the country. Around 2,500 cargo vessels and 1,200 passenger craft visit the harbour each year.
Known in ancient times (and in English, up until the early 20th Century) as Smyrna, Izmir has long been a centre for commerce and trade in Turkey, and its location at the mouth of the Gulf of Izmir, directly facing the Mediterranean and Europe, meant it had already grown to become a major international port by the 17th Century.
Today, the Port of Izmir is owned and operated by Turkey's state rail company, TCDD, and handles in excess of 12 million tonnes of cargo each year.
History
The first modern quay was constructed at Izmir in 1869, but the Port we see today wasn't built until 1959. It was built by TCDD but was owned and operated by the nationalised DenizBank from 1960-1989, after which ownership reverted to TCDD.
A free trade zone was established at the Port in 1990. The Port was also the subject of a privatisation bid in 2007, but the project fell through.
Facilities
The Port of Izmir today offers 24 berths, with a total quay length of 3,386m. Berths 1-2 are used for passenger ships, berths 4-12 and 20-23 handle general cargo, berths 3 and 24 are for dry bulk goods and berths 13-19 are used for container and/or ro-ro shipping.
Draft is 12.9m in the channel, 7.1-9.1m at the cargo piers and 6.1m at the oil terminal, though anchorages of up to 32m are available just outside the harbour for larger vessels. Pilotage is compulsory for all ships entering/leaving the harbour, and the service is available 24 hours a day.
Lifting equipment available at the port includes a floating crane with a capacity of 200 tonnes, five 40-tonne gantry cranes, nine fixed cranes and 14 mobile cranes, as well as numerous forklift trucks and stackers.
A full range of chandlery, provisioning and minor repair services is also available.
Facts of Interest
• There has been a human settlement at Smyrna/Izmir since at least 6500BC. Christianity took hold in the city very early on, and the Church of Smyrna is one of the seven Churches of Asia addressed in the Bible's Book Of Revelations.
• By far Izmir's most famous son was Greek shipping tycoon Aristotle Onassis – he was born there in 1906, though he and his family fled the country in 1922, during the Greco-Turkish War.
We offer Roll on Roll off and Container Car Shipping to Izmir, Turkey. For a tailored estimate for your shipment, complete the quick quote form on this page.
---
---