Car Shipping to Qatar
Port of Hamad Information, History & Facilities
Regular shipments by RoRo and Container direct to the Port of Hamad, Qatar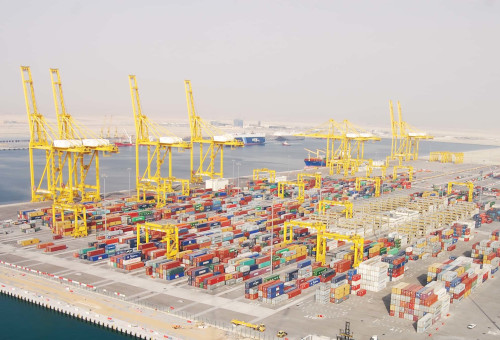 Port of Hamad, Qatar
The Port of Hamad is one of the most modern that we ship to, having only officially opened in 2017. Prior to Hamad's opening, the nation's most important seaport was the Port of Doha, which is located right in the emirate's capital and previously handled over 80 per cent of the country's imports and exports.
That same statistic now applies to Port of Hamad, which lies some 30km to the south of Doha, just to the north of the industrial city of Mesaieed. Like Doha, it is located on the eastern shore of the Persian Gulf, and currently handles around eight million tonnes of cargo each year, although maximum capacity is significantly higher.
The port is operated by Mwani Qatar.
History
Like almost everything in Qatar, the Port of Hamad's history is inextricably tied to that of the petroleum industry. Until the discovery of oil in the 1950s, Qatar was an underdeveloped country that had never recovered from the collapse of its pearling industry in the mid-19th Century. Today, less than 70 years on, the country has the highest per capita income in the world, demonstrating just how big an impact the oil industry has made on the regional economy.
The nation's first modern port facilities were constructed at Doha during the early 1970s, expanding a natural harbour that had been used by pearlers and fishermen. But the Port of Doha proved unable to keep pace with the demands of an ever-growing population, and so in 2007 the Qatari authorities announced the construction of a brand new, purpose-built port at Hamad.
Work began in 2010 and the Port became operational in 2016, although it wasn't officially opened until September 2017.
Facilities
As you'd expect from a facility that was constructed so recently, Port of Hamad is fully equipped to deal with the demands of the 21st Century shipping industry.
The Port covers an area of some 28.5 square kilometres, and as well as three container terminals with a combined capacity of 7.5 million TEUs, there are dedicated terminals for livestock, vehicles and passenger ships, as well as facilities for transporting grain and, naturally, oil.
A 110m-tall Port Control Tower oversees all operations, and the entire region is a Free Trade zone, enabling the faster trans-shipment of goods internationally.
Facts of Interest
• Expatriates represent a staggering 88 per cent of Qatar's resident population, the vast majority of whom are Indian workers.
• Arabic is the country's official language but English is generally used in business, while Hindi and Urdu are also widely spoken.
We offer Roll on Roll off and Container Car Shipping to Hamad, Qatar. For a tailored estimate for your shipment, complete the quick quote form on this page.
---
---