Port of Halifax, Canada
International car shipping port in Halifax, Canada
At AutoShippers we specialise in shipping your car, van, truck, SUV or motorcycle, from the UK to anywhere else in the world, including Canada. Find out more about the Port of Halifax, one of Canada's largest ports, below.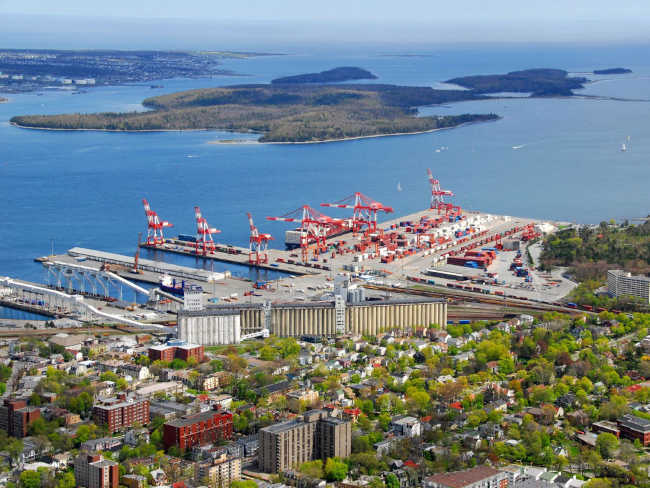 Halifax
Halifax Harbour is located near the capital city of Nova Scotia, Halifax. It is the second largest population centre in Canada, after Vancouver, British Columbia, and the most populous area on the Atlantic coast.
History
Halifax Harbour is part of the Halifax Metropolitan Area. The Port was established in 1749 by Edward Cornwallis, First Governor of Nova Scotia. Cornwallis was tasked by the British Government of Great Britain to establish a port to counter the French Fortress Louisbourg.
Indigenous Mi'kmaq Indians of the Wabanaki Confederacy and Catholic Acadians mounted regular attacks on the settlement and were supported by the French in their opposition to British settlement. Cornwallis left Nova Scotia before the matter was resolved by the British victory over France in the Seven Years War (1763).
Halifax was named for the 2nd Earl of Halifax, George Montagu-Dunk who was president of the Board of Trade and Plantations.
Sambro Island Lighthouse was constructed at the harbour entrance in 1758 to assist shipping and a Naval Yard established in 1759. The lighthouse is the oldest surviving lighthouse in North America.
Halifax was an important strategic military base in both world wars.
Facilities
The Port is run by the Halifax Port Authority, a Crown Corporation responsible to the Canadian Government, created in 1999, following the Canada Marine Act, 1998.
Halifax Port Authority operates container terminals and cruise terminals, as well as an autoport and seaport. It has come to specialise in roll-on/roll-off transport logistics.
Halifax Autoport has capacity for 185,000 vehicles per year. It covers almost 100 acres, and has 50 truck loading bays for wheeled vehicles.
Fairview Cove, South End and Ocean Container Terminals provide fully intermodal shipping, serviced by Canadian National Rail. Each terminal has 6 gantry cranes, including 60 tonne post-Panamax gantry cranes, roll-on/roll-off ramps, and handle break bulk and heavy lift requirements. There is capacity for over 700,000 TEU (Twenty-foot Equivalent Units) per year. Fairview Cove has a state of the art truck marshalling facility and is fully secure and access-controlled.
There is a cruise terminal which services 250,000 cruise passengers per year, generating over $50 million in local economic impact.
Imperial oil wharves serve markets in the US and Canada by pipeline.
Facts of Interest
• Halifax played a part in the tragedy of the Titanic, with three ships dispatched to recover bodies. Many unnamed victims of the disaster are buried in the area.
• On 6th December 1917, Halifax Harbour was the scene of the largest non-nuclear man-made explosion, when the SS Mont-Blanc, laden with wartime explosives collided with the SS Imo. The massive explosion killed 2,000 people, and injured up to 9,000.

---
---