Port of East London, South Africa
Port facilities and information for East London, South Africa
Great rates and regular container & roro car shipping services to East London, South Africa directly from the UK.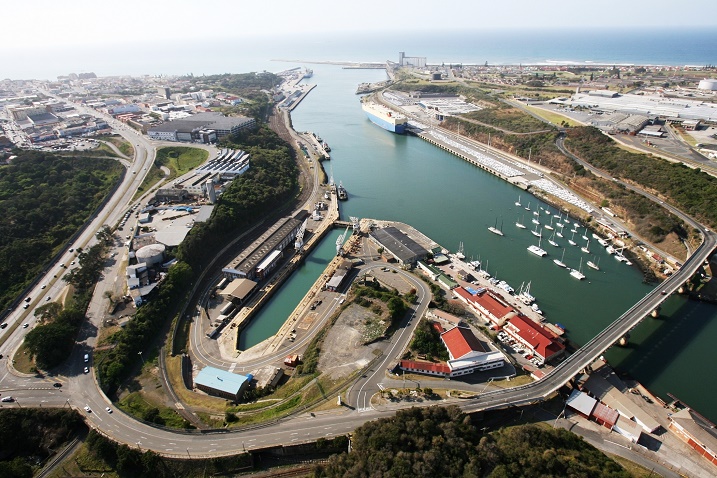 Port of East London, South Africa
Located at the mouth of the Buffalo River, where it joins the Indian Ocean in East Cape Province, the Port of East London is South African's only river port.
Daimler is East London's largest employer, manufacturing Mercedes and other car marques at a large plant in the city, so unsurprisingly the export of vehicles is a key component of the port's trade.
Tourism also plays an important role, with many cruise ships bringing visitors to explore the region's beaches and wildlife.
History
The settlement and trading post at East London were established in 1836 by a British colonist named John Bailie. As the docks and the surrounding town grew larger, they were renamed East London, and achieved city status in 1914.
Construction of the current harbour began in 1876, after the UK government had granted the Cape Colony (as it then was) a degree of self-governance in 1972. The Cape Colony then went on to merge with two other British colonies to form the Union of South Africa in 1910.
Facilities
The Port of East London today welcomes over 300 ships a year, and handles over three million tonnes of goods annually.
The Port has 12 berths available at any one time, with quay lengths of up to 250m. The Port consists of three main zones: a car terminal on the West Bank, a multi-purpose terminal on the East Bank (which mostly handles containers) and a grain elevator. Cruise ships can use any available berth.
The car terminal, built to service the neighbouring Daimler plant in 2000, can handle 50,000 vehicles a year, with capacity of 2,800 on-site at any given point. There are plans to expand this by adding more on-site capacity.
The container terminal handles over 90,000 containers each year, although operators need to be aware that while fixed and mobile cranes are available, these have a maximum capacity of 50 tonnes.
The grain elevator, which is used for both imported and exported goods, is the largest in South Africa, and has a capacity of 76,000 tonnes.
A full range of provisions and stevedore and chandlery services are also available at the Port, as is a dry dock facility.
Facts of Interest
• The bridge across the Buffalo River in East London is the only double-decker bridge in Africa.
• The East London Museum houses the coelacanth, a prehistoric fish, that was caught locally in 1938 – much to the surprise of scientists who thought the species had been extinct for thousands of years!
• One of East London's most famous sons is Jean-Michel Byron, singer with 80s soft rock outfit Toto.
We offer Roll on Roll off and Container Car Shipping services direct to East London, South Africa. For a tailored estimate for your shipment, complete the quick quote form on this page.
---
---