Shipping Cars the Port of Dakar, Senegal
Information for shipping your car to Senegal
Regular shipments via RoRo and Container direct to Port of Dakar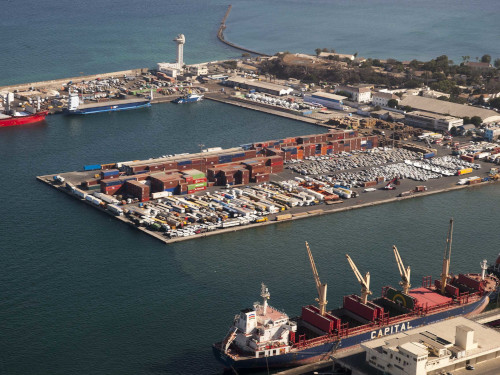 Port of Dakar, Senegal
The capital of Senegal is located at the very westernmost tip of Africa. where the primary sea routes from Europe to South America converge. Having a natural harbour as well, the town and its port were therefore ideally placed to serve as a refuelling station for shipping once international trade really began to take off in the 19th and early 20th Centuries.
Today the Port of Dakar is the third largest port in West Africa, handling over 10 million tonnes of cargo annually, as well as being a stopping-off point for cruise ships.
Formerly owned and operated the local authorities, a 25-year lease to run the port was granted to Dubai International Ports in 2007.
History
There is evidence of maritime activity in Dakar (and/or on the neighbouring Gorée Island) dating back to the late 1300s, and the area has been permanently settled since at least as far back as 1500. The modern port was built by the French in the 1860s.
Piers 3, 5, 6 and 8 were added in the years 1926-1933. Pier 4 opened in 1951, followed by an oil wharf in 1954. Two fishing wharves were built in 1962 and 1972, to be eventually replaced by a dedicated fishing port in 1980, while back at the main port a container terminal with two berths and 20 hectares of outdoor storage opened for business in 1987.
2009 saw the arrival of two large ship-to-ship gantry cranes, and in 2010 a new International Ferry Terminal opened. At time of writing (Jan 2020), work is about to begin on a new oil wharf, the one built in 1954 having been demolished in 2013.
Facilities
As a major regional port, and one that has been the subject of considerable investment since 2007, the Port of Dakar has all the facilities you'd expect, including a full range of longshore, chandlery, provision and repair services, fixed, mobile and floating cranes (including 100T cranes) and a medium-sized dry dock.
Draft is 10m in the channel, 7.6m at the cargo pier and 9.1m in the oil terminal, with anchorage available of up to 15.2m.
Within the port, a 'wharf specialisation programme' is a key part of the port's ongoing modernisation plans, so there are dedicated container, ro-ro, non-food bulk and hydrocarbon terminals, with dedicated fruit and cereal (ie, food bulk) terminals soon to be added.
Facts of Interest
• The Port of Dakar is the only port we know of that has its own professional football team! ASC Port Autonome is co-owned by the Port and competes in the Senegal Premier League.
We offer Roll on Roll off and Container Car Shipping services direct to Dakar, Senegal. For a tailored estimate for your shipment, complete the quick quote form on this page.
---
---