Port of Charleston Information and History
Read about the facts, history and facilities of Charleston port
We offer car shipping services direct to Charleston port from the UK.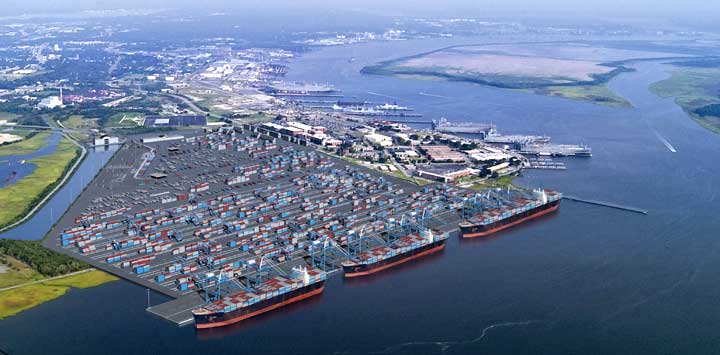 The Port of Charleston (USA)
Charleston is the oldest city in South Carolina in the United States. Located on the South Carolina coast beside an inlet of the Atlantic Ocean, the Port of Charleston is ideally situated and is a hub of activity. It is the 39th busiest cargo port.
Cruise ships and transport companies use the Port of Charleston daily, with an average of 150 million US dollars of cargo passing through the five busy terminals every day. The port plays a large part in the local economy and employs many people.
History
The Port of Charleston has a long and varied history and was founded in 1670. The town itself is known for it's friendly people, excellent trade routes and beautiful architecture.
Charleston was the port of entry for those wishing to enter the colony in 1682, when the main imports were rice, animal skins, tobacco and naval stores, amongst other items.
After the Civil War, the Port of Charleston and Charleston harbour were a mess. Mines, sunken ships and neglect almost put an end to the port. Luckily it survived. The South Carolina Ports Authority took over the running of the Port of Charleston in 1942.
Facilities
• RoRo services (Roll-on Roll-off)
• Transloading
• Support vehicle handling
• Containerised goods
• On-terminal rail access
There are 5 terminals in operation, each offering a wide range of cargo options.
• Wando Welch
• Columbus Street
• Union Pier
• North Charleston
• Veterans Terminal
Approximately 30 of the world's top carriers use the Port of Charleston on a regular basis. It is also the deepest port in the South East region of the US.
The mission of the South Carolina Ports Authority is to encourage growth, offer a competitive service to cargo and cruise ships and be financially self-sustaining.
Plans are underway for a large expansion to the Port of Charleston, with new and improved technology and a deeper harbour channel.
Facts of Interest
-

The Port of Charleston was named in honour of the English king at the time, Charles II.
-

The port is committed to reducing emissions, funding air-monitoring systems and is also restoring 22 acres of marshland close by to the port.
-

Charleston or Charlestowne as it was formerly known, has a glorious mix of culture, local cuisine and a vibrant feel to the city. Art, fashion and music play a large part in the lives of the residents here and was once named "the most polite and hospitable city in America" by Southern Living magazine.
We offer Roll on Roll off and Container Car Shipping services direct to the US.
View our US Car Shipping Guide here, or find out more about how we ship to the USA.
---
---