Shipping Your Car Argentina
Autoshippers car shipping UK to Buenos Aires. Regular container and Roll on Roll off services.
Find port rates and information here.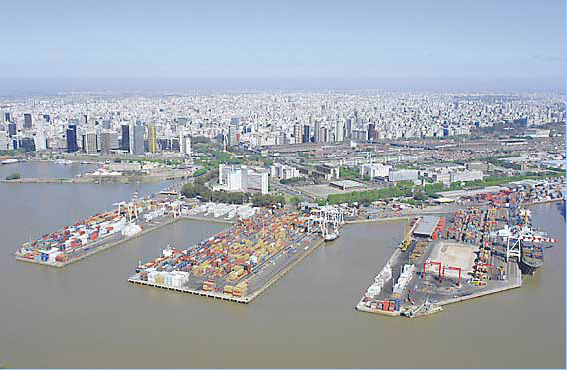 Port of Buenos Aires
The Port of Buenos Aires is Argentina's busiest and biggest port, handling some 11 million metric tonnes of cargo each year, as well as over 200,000 human passengers, most of them travelling on the many cruise liners that frequently visit the port.
Around 2,000 vessels visit the port each year, including some 800 cargo vessels that between them carry over 1.5 million containers.
History
Originally centred around a natural harbour known as the Balizas Interiores, the port was expanded several times as international trade (particularly in beef and cereal) expanded in the late 19th and early 20th Centuries.
A new harbour called Catalinas Norte opened in the 1870s, followed by a series of four new docks (the Puerto Madero, designed by British engineer Sir John Hawkshaw) in 1887, before ever-increasing maritime traffic inspired the construction of an entire new port to the north of the original site, called Puerto Nuevo. Construction began on the Puerto Nuevo in 1911 and was completed in 1925, adding six more docks to the total infrastructure.
Today, the entire site is referred to locally as the Puerto Nuevo, differentiating the Port of Buenos Aires from the nearby Dock Sud, which is managed by the Province of Buenos Aires, rather than the national General Ports Administration.
The former Puerto Madero was redeveloped in the 1980s, and its red brick warehouses are now home to upmarket apartments, offices, restaurants and retail units.
Facilities
Today, the Port of Buenos Aires handles over 60 per cent of goods that enter or leave Argentina each year, with strong road and rail links to facilitate the transportation to and from the port.
The site is divided up into three sectors housing five terminals, which offer docking facilities for 23 ships at a time, with a maximum depth of 10.05 metres. The port's administrative centre is at Av. Ing. Huergo 431, and there are medical facilities on-site, as well as a dedicated training centre for port employees.
In a bid to encourage environment-friendly industry practices, ships that are part of the Green Award or Environmental Ship Index receive a discount of up to 10 per cent on port fees.
The next phase of the port's ongoing modernisation will see the construction of a dedicated passenger terminal for the cruise ship trade.
Facts of Interest
• The first port in Buenos Aires was constructed by the Spanish in 1580.
• During the early 1900s, when Argentina was experiencing a wave of mass immigration, the port was home to the Hotel de Immigrantes – the Argentinian equivalent of New York's Ellis Island.

We offer Roll on Roll off and Container Car Shipping services direct to Argentina. For a tailored estimate for your shipment, complete the quick quote form on this page.
---
---