Brisbane Ro-Ro and Container Car Shipping
Shipping cars UK to Brisbane Port
Autoshippers ship cars, autos, motor vehicles and trucks direct from the UK and USA into Brisbane. The port allows cars to be shipped by both RoRo via their Roll on Roll of Terminal and by weekly container car shipping to Brisbane. For a car shipping quote to Brisbane please complete the car shipping quote form on this page. If you are shipping your car from the UK this form will give you an instant reply with costs and prices for shipping cars by RoRo direct from the UK to Brisbane.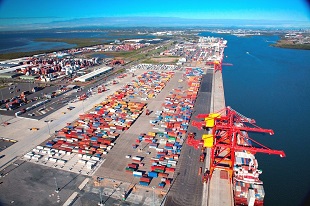 Port of Brisbane
The Port of Brisbane is located on the East Coast of Australia at the mouth of the Brisbane River, away from urban encroachment. It is the third busiest port in Australia and the biggest general cargo port in Queensland. Its mission is to be Australia's leading port. It provides an important interface between other rail, road and sea methods of transport.
History
The Port of Brisbane has been in use since the mid-1800s, when the first items that used to move through it were shipments of timber from local pine and cedar forests. Since then it has grown over many years into a purpose-built and very busy port. In fact it is now the fastest growing container port worldwide. Currently it is operated by the Port of Brisbane Ply Ltd (PBPL) and is under a 99-year lease from Queensland Government.
Faclilities
The Port of Brisbane covers 7.5km square, and being purpose built it now has in total 29 operating berths and 2 cruise ship wharves. The two wharves offer different facilities. Over 300 people are employed here. The port has facilities for: Containers, General cargo and Motor vehicles. It has 697m of general cargo wharves and it is one of the many ports featuring our regular, scheduled RoRO Services (Roll-on Roll-off). Dry-bulk and wet-bulk.
One of the wharves, Portside wharf, is fairly new and was finished in 2006. It features coffee shops, restaurants, gift centres and also a visitor centre. It also has 7,200m of quay line.
The top 5 trade commodities moving through the port include:
Imports
1. Crude oil
2. Refined oil
3. Cement
4. Iron and steel
5. Building products
Exports
1. Coal
2. Refine oil
3. Cereals
4. Meat products
5. Iron and steel
To assist with trade growth and development, the port offers customers detailed statistics reports which can be found at the Port of Brisbane website.
Facts of Interest
The Port of Brisbane is built on reclaimed land that was once called The Fisherman Islands. Over 35 shipping lines service the port, and it is visited around 2500 times every year. It is a popular port destinations for car shipping from the UK to Australia. The Port of Brisbane has room to grow and is currently being upgraded and extended. This is costing over 150 million dollars. The port features a large shore bird roost build in 2005 to support migratory shore birds visiting the East Coast of Australia.
---
---