Car Shipping UK to Lebanon
Ship your car with Autoshippers, direct from the UK to the Port of Beirut, Lebanon
Information for shipping a car to the Port of Beirut. Car shipping costs and weekly roro & container shipping.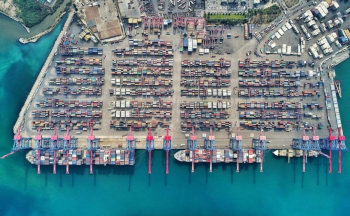 Port of Beirut, Lebanon
Situated on Lebanon's northern Mediterranean coast, Beirut is one of the oldest cities in the world: there has been a settlement there for at least 5,000 years. The port itself is located on St George Bay, at the mouth of the Beirut River, and is an important regional seaport that serves not only Lebanon itself but also its neighbouring countries, including Iraq, Syria and Jordan.
Managed by the Port Authority of Beirut (GEPB, or 'Gestation et Exploitation du Port de Beyrouth'), the port handles nearly six million tonnes of cargo each year, including nearly 1.5 millon containers.
History
Today Beirut is known as the party capital of the Arab world, but its history has been a violent one, with the city held at different times by Roman, Syrian, Egyptian and Ottoman invaders, who followed in the footsteps of Babylonians, Persians and Assyrians before them.
More recently, a bloody civil war raged from 1975-1990, claiming over 120,000 lives and leading over a million Lebanese to flee overseas. The Port of Beirut underwent an extensive programme of rebuilding and regeneration following the end of the Civil War.
Facilities
The Port of Beirut today consists of four basins and 16 quays. By far the most important of these is Quay 16, where a new purpose-built container terminal was opened in 2004.
The Beirut Container Terminal is equipped with 16 ship-to-shore Post-Panamax gantry cranes, two mobile harbour cranes and 51 rubber-tired gantry cranes (RTGs), each of the latter with a capacity of 40 tonnes. Storage and movement of containers within the Port is controlled by a state-of-the-art computer system running bespoke software that cost millions to develop.
Since 2005 the Port of Beirut has been an internationally recognised transshipment port, which has led to French container handlers CMA-CGM building a $12 million regional headquarters at the site. Other buildings on-site include 12 warehouses, a grain silo and a commercial building that houses duty-free shops. These are for the benefit of the 7,000 or so cruise passengers who pass through the port each year.
Facts of Interest
• St George Bay is so named because legend has it that this was where St George slew his mythical dragon, washing his hands in the Beirut River afterwards. For that reason, the area was a place of pilgrimage for medieval Christians.
• No-one knows exactly how many people live in Beirut, as an official census hasn't been carried out for decades. Estimates range from 1 million to 2.2 million.

We offer Roll on Roll off and Container Car Shipping services direct to Beirut, Lebanon. For a tailored estimate for your shipment, complete the quick quote form on this page.
---
---