Auckland, New Zealand Car Shipping from the UK
Port Information. Autoshippers car shipping services by Container and RoRo to Auckland.
Auckland is the main car shipping port for cars, trucks, autos and moving cargo imported into New Zealand. At Autoshippers UK we arrange car shipping to Auckland New Zealand direct from all major UK ports and specialise in shipping cars by container and RoRo (Roll on Roll off)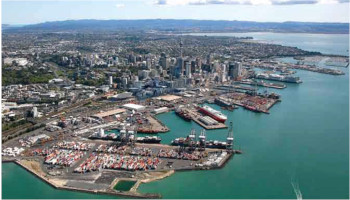 Port of Auckland (New Zealand)
The Port of Auckland is a container and international trade port on the Waitemata Harbour, lying on the central and eastern Auckland waterfront (north of the central city of Auckland). It is also the main Ro Ro port for the cars.
Many of the wharves handle Roll-on Roll-off (Ro-Ro) vessels importing cars and other vehicles. A Vehicle Entry User System (VENUS) helps customers track the flow of cars from the ship to the showroom floor.
History
Auckland Harbour Board was established by Auckland Provincial Council in 1871. The Council established a wharf, a quay and a breakwater. The Port has been the largest in New Zealand since 1924.
Land reclamation has enabled the building of further wharves, railway dockyard and a passenger terminal. Following the Second World War, Fergusson Wharf was established, providing facilities for the container trade. Auckland is now the largest container port in Australasia.
Facilities
There are seven wharves for multi-cargo purposes managed by the Ports of Auckland Authority. Ports of Auckland Authority has implemented a range of technologies to assist users of the port.
Fergusson Container Terminal is New Zealand's largest and most technologically advanced container terminal, covering 32 hectares. A further 3.6 hectares are planned to be added in 2016. Vehicle booking systems and advanced container tracking make it an efficient processor of freight containers. Especially useful when shipping cars to New Zealand.
Stevedoring services are provided by private organisations, with cargo-handling equipment leased from Ports of Auckland. There are 8 cargo-handling units with fork hoists, a reach stacker and top-lift gantry trucks. There are more than 40 straddle carriers, able to lift 2 20-foot containers simultaneously. Eighty per cent of the straddle carriers are low-emission, low-noise diesel models able to maintain refrigeration.
Inter-wharf transfer facilities are provided for the increasing number of shipping customers who use Auckland Port for trans-shipment.
Road exchanges service more than 1,500 trucks per day on average, serving terminal and multi-cargo customers and vehicle imports.
While third party operators can offer packing/unpacking services.
Facts of Interest
• An average of 166,000 used cars are imported through Auckland per year, mostly Japanese models.
• Over 1400 ships from 176 international ports in 69 countries are serviced annually.
• In 2013 Auckland won an award for Best Turnaround Destination by the British Cruise Insight magazine.
• In 1941, the US based its fleet operations at Auckland. 104 warships and 284 transports visited Auckland in 1943.
We offer a service for car shipping to New Zealand.
---
---