Shipping Cars to Ashdod, Israel
Port of Ashdod Information, History & Facilities
Great rates and regular shipments by RoRo and Container direct to the Port of Ashdod, Israel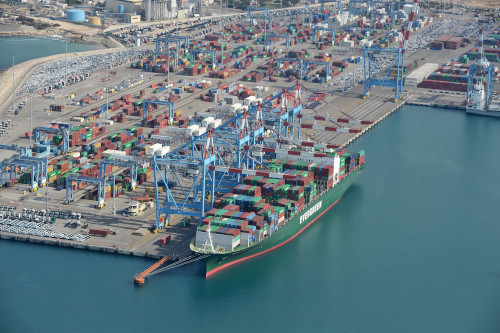 Port of Ashdod, Israel
Located at the mouth of the Lachish River on Israel's Mediterranean coast, some 40km south of Tel Aviv, Ashdod is the country's largest port, with 60 per cent of goods that enter the country each year doing so via Ashdod. The Port handles over 1.5 millon containers and nearly 25 million tonnes of cargo each year.
The Port is owned by the Israeli government and operated by the Israel Port Authority.
History
Ashdod's natural harbour has been in use by fishermen (and occasionally warships) since ancient times, but the city itself is a modern construction, established by Moroccan Jewish and Egyptian settlers in the mid-1950s.
Construction of the Port of Ashdod began in 1961, when the town's population was just 4,600, and the Port opened for business in 1965. The city then grew rapidly in size during the 1970s, 80s and 90s, and today it has a population of around 225,000 people.
To keep pace with this ever-growing demand the Port itself has undergone an extensive modernisation programme in recent years, including the construction in 2006 of the new Eitan terminal, which added larger berths for Panamax and super-Panamax ships.
A new Southern Terminal is currently under construction, which will boost container capacity as well as housing an on-site rail freight terminal.
Facilities
The Port today has six conventional piers. These include Pier 5 with its Panamax berths; the container pier, which has four dedicated berths for Ro-Ro shipping; and the dedicated minerals pier, which opened in 1967 and mostly handles potash and phosphates.
Draft is 15.2m in the channel and 6.1m at the cargo piers and oil terminal, though much deeper (23m-plus) anchorages are available in the open sea. Pilotage is compulsory for all vehicles entering the Port, and assist tugs are available.
The Port is equipped with 28 shore cranes with capacities from 8-50 tonnes, five 35-tonne mobile cranes, 10 container cranes, and well over 100 forklift trucks, 20 of which have maximum lifting capacities of up to 42 tonnes. Chandlery and provisioning services are available, but there are only limited repair facilities and no dry dock.
Facts of Interest
• There has been a settlement at Ashdod since at least the 17th Century BC, and it is mentioned 13 times in the Bible.
• Ashdod is a modern 'planned' city, and like (eg) Milton Keynes is divided up into different zones for business, residential and industrial use.
We offer Roll on Roll off and Container Car Shipping to Ashdod, Israel. For a tailored estimate for your shipment, complete the quick quote form on this page.
---
---