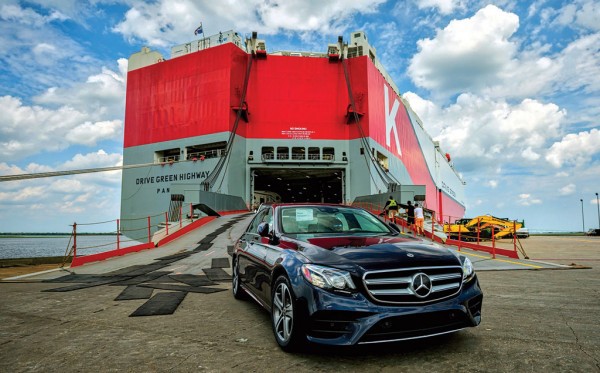 If you're planning on toot-tooting overseas, you might be feeling a little nervous about the task at hand. But with the right help and advice, shipping a car internationally can be stress-free and straightforward.
Firstly, there are a few things to consider, such as where you're going and the duration of your stay away. These various factors will help determine what paperwork and whether you need to apply for permanent export.
This guide on international car transportation, created by the professionals at Autoshippers, will help put your mind at rest and lead you to easy, happy shipping.
Do I need an up-to-date V5C logbook?
If you're planning on leaving for less than 12 months, you'll need to know first what a V5C is and how to make sure it's up-to-date.
V5C is your vehicle logbook required by the DVLA. It tracks your vehicle's registration and taxation history, so it must be updated when circumstances change.
If you're changing your address, you have to change the details on your V5C, which is free to do on the DVLA website. It must include a viable, current address and your details so that the DVLA knows where and to whom the car is registered. Luckily, you can do all of this online, making it convenient and easy to manage, although organising in advance is always recommended.
You have to make sure you take your V5C logbook with you when you ship out, as you may have to present it at a port while driving abroad.
You can find more information on permanent and temporary export, as well as the documentation needed for each, in our UK vehicle export guide.
What UK Laws are Applied to Temporary Export?
Remember that if you're not making a permanent move, UK law still applies. If you're going for less than 12 months, you'll still need to sort your UK tax, MOT, and insurance.
Ensuring that this is all pre-arranged before you go will make for a problem-free transition when you go abroad. It means that your car will be legal to drive, and you shouldn't face any penalties in the UK or your destination country. Having said this, you will need to check out any international or national conditions for licensing and taxation in your new country to make sure you're all sorted.
Any further information about this can be found on the DVLA website.
International Certificates for Motor Vehicles
For those planning on venturing to countries such as Somalia, Mexico, or Liechtenstein, you'll need to get your hands on an ICMV (International Certificate of Motor Vehicles), otherwise known as a multi-lingual translation of your V5C.
An ICMV can only be issued for UK-registered vehicles and is valid for 12 months. You can get one by heading over to the DVLA website and following the instructions to apply for one.
You'll need to present proof that you are the vehicle owner and only leaving the UK for a maximum of 12 months. It's completely free, and there are options to either email or post your application.
Permanent Export
If you're planning on settling down for the long haul in your new destination country, you'll need to register for permanent export.
You first have to let DVLA know and make sure you fully complete the 'permanent export' section of your vehicle logbook. Once it's all filled out correctly, you need to send this part over to DVLA via post and include a letter if you're moving abroad and want your vehicle tax refund. You may or may not be entitled to one, so it's a good idea to check this if you're in any doubt. Remember to keep the rest of your V5C as you'll need it to register your vehicle in your new country.
Please see our UK vehicle export guide for more details on permanent export.
Check Import duties and CPD Carnet
Depending on where you're going and how long for, you may need to pay import duty on your vehicle once you take it outside the UK. To find out whether you fall into this category, please check our relevant country guides or check with the authorities in your destination country.
Car shipping / import guides:
USA
Canada
Australia
New Zealand
Cyprus
Malta
South Africa
Singapore
Hong Kong
These import charges only apply to those taking their car outside of the EU. If you've got your sights set for international moves, you will need to purchase a CPD Carnet. This allows you to take your car into the destination country without paying import duties. It makes for stress-free transitions and also crossing the border a lot easier.
You can apply via the DVLA website, and once you've paid a fee and a deposit, you should expect your Carnet within four weeks of applying.
Check your vehicle history
Pull out the paperwork and check your vehicle history before you go anywhere. A vehicle may have been bought on finance; this includes by a previous owner, so you must check nothing is owed before you go. This will eliminate any trouble down the road if UK customs decide to check any outstanding finance owed. If it does so happen that you do have due payments to be made, you can still ship your car as long as you get written approval from your loan company. Making sure you do your check beforehand can prevent last-minute delays.
Talk to Autoshippers
You don't need to worry when it comes to shipping a car internationally. Working with the professionals and getting all the necessary advice for the job will ensure it's easy, hassle-free, and organised for your departure. If you have any further queries, contact our team at Autoshippers, and we'll get you on your way. Or simply get a quote on our website for us to ship your car and handle everything for you.