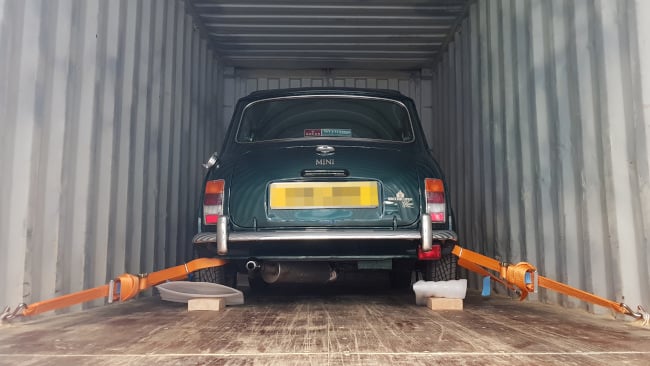 Bags packed, passport in hand, toothbrush, charger, car keys… Wait, do you need your car keys? If you're planning a trip abroad, you might be trying to decide whether your trusty vehicle is going to accompany you on your far away adventures.
Whether you're booked for temporary travel or you're making a permanent move, you'll have to consider what to do with your wheeled companion. Leave it behind, or take it with you?
At Autoshippers, we do enjoy a 'happily ever after', and having a piece of home with you to kick start your adventure could work out much easier in the long run. Here are the top reasons for shipping a car abroad.
Temporary Travel
If you're planning a shorter stint of globe-trotting, you might be wondering if it's worth taking your vehicle.
Bringing your own mode of transport could save draining your travel budget by hiring vehicles when you're abroad. This does depend on the destination, but the likelihood is that having your own car means you can avoid the inconvenient pick-up and drop-off, and the unfavourable costs of a hire car.
It's also important to consider the value and depreciation of your vehicle. Depending on the duration of your trip, don't forget that your car is losing value hidden in storage while you're gallivanting. Also, the longer you don't run a car, the more susceptible it is to problems such as plugged up injectors, damaged fuel lines due to stale fuel and draining the battery. So, unless you have a trusted friend who's willing to take the car out for a spin regularly, it might be better considering international car shipping.
Permanent Move
The time has come to up sticks and make your move—does your vehicle make the cut amongst the things you're taking?
For those making a permanent move, if you're planning on shipping belongings overseas, it makes sense to ship your vehicle amongst these things. This means that you have peace of mind on the other side, knowing that you can drive off without the hassle of organising transport when you get there.
Perhaps you have a unique replica, a vintage classic or even a supercar that can't be replaced. At Autoshippers, we offer a range of services from RoRo car shipping for fast and affordable shipment, air freight for maximum vehicle protection, and container car shipping service for personal container shipment. Depending on your unique requirements, all of our services make it easy and convenient to take your vehicle with you.
You might just find you save time and money shipping a car overseas, rather than trying to sell your vehicle at home and buy a new one at your destination.
Sentimental Reasons
Do you remember the moment you first laid eyes on your car and thought, "this is the one"? Trips, laughs, hungry pit stops; you've likely got fond memories of being behind the wheel of your car.
It can be a challenge to replace this kind of sentimental notion for our vehicles, and finding a car you love to drive isn't always easy. If you'd find it hard to part with your trusty 4-wheeler (or 2-wheeler), then you don't have to. Sometimes, you just can't put a price on those creature comforts, and you might feel more at home sitting in your car in your new destination.
Motorbike Shipping
Are you dreaming of hitting the open road with the wind in your hair and the horizon ahead?
Shipping a motorbike overseas is surprisingly easy and affordable, ranging between £260-£570 to ship from the UK. Using RoRo shipping or secure crating, you can meet your motorbike at the destination port and rev off into the sunset.
Opting to take your motorbike on your travels opens up many doors for adventure. It can be an excellent means of transport for exploring new places and gives you the freedom to roam wherever and whenever you want.
Motorhome Shipping
For the bold souls who are planning a great world adventure in their motorhome, knowing the vehicle you're travelling in can take the pressure off.
A motorhome is your home away from home, and more often than not, holds sentimental value and great memories within its four walls. If your motorhome is personalised to you, you're likely to feel more comfortable in it and perhaps know what to expect, rather than hiring one that's all new to you.
Shipping a motorhome couldn't be easier with Autoshippers' door to door service throughout the UK and the US. It's all about making memories, so why not add some more mileage to your 4-wheeled memory box and take your motorhome with you?
Why Ditch It When You Can Ship It?
Organising trips or moving abroad always requires plenty of planning, so it's best to make life as easy as possible when you touch down on foreign soil. Although leaving your vehicle might mean travelling light, it could lead to challenges ahead like losing money on the value of your vehicle and hiring or buying a new one later. If your wheeled machine has served you well, they deserve a holiday too, so why not bring a piece of home with you on your new adventure.
For support with all your international car shipping needs, contact Autoshippers to get your vehicle from A to B hassle-free or simply ask for a quote.