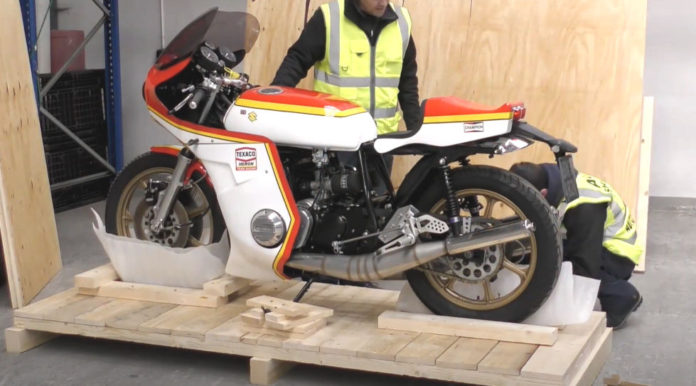 Nearly two decades since his death, the high-speed daredevil Barry Sheene still remains an icon to many—especially to the protagonist of this success story.
Since his hero's rise to racing fame in the 1970s, one US motorcycle fanatic has spent years celebrating the many wins of the people's beloved "Bazza". After years of searching, he has miraculously managed to acquire the legend's replica bike. The challenge? The coveted motorbike was in the UK – thousands of miles away!
Who was Barry Sheene?
Best known for his charisma, charm and cheeky nature, famous motorcycle racer Barry Sheene stole hearts globally as he whizzed to fame on two wheels in 1972.
Born and raised into a motorcycle racing family in London, Sheene quickly caught the racing bug and became obsessed with the two-wheeled thrill rides. After leaving school aged 15, declaring with a wink that his top subject was "absenteeism", he had tunnel vision for one thing and one thing only — becoming a motorcycle racing champion.
To fund his passion, Sheene worked several jobs, including delivery driver (praised for his speedy deliveries!), labourer and car park attendant. In 1970, supported by his father, he managed to get his hands on a 125cc ex-works Suzuki. This was the moment Sheene's life would change forever.
Major achievements
The year 1970 saw Barry breakthrough, going from zero to hero on the racing scene.
In 1972 he caught the eye of Suzuki GB, and his racing career hit top speed as he raced their fragile but fast, air-cooled TR500. In 1973, he crossed the finish line hot and fast winning the 750 world championship. However, this was but a low-level run around for Sheene as he aimed to conquer the world's top motorcycle racing competition ― the illustrious 500cc.
Sheene was now firmly in the limelight, and everyone wanted their moment with the most famous motorcycle racer. The nation quickly jumped on the 'Sheene team', roaring and chanting for their favourite motorcycle racer, wooed not only by his racing ability, but also his striking character and star quality. The Cheshire cat grin caught behind the visor of his helmet melted the hearts of his female fans and his unforgiving "Jack the Lad" image earned his golden spot in the media.
Although he may not have been the best of the best in terms of racing, Sheene's personality and charisma drove his success. He made an impression to last, as fans still reminisce over his glory days.
Barry's original Bultaco
On a quest to find his own Barry Sheene bike, this motorcycle fanatic had his sights set on the original 1967 Bultaco TSS 250 Type 41, previously ridden by Sheene in the 1967 season. Imported by Barry's father Frank in the same year, it was in the hands of legendary Sheene for three years, blasting around the racetracks before he sold it in 1970. Still in good factory condition, the bike was on the market for above this anonymous buyer's budget, so had to bow out of the auction.
The replica
The quest continued as our motorcycle enthusiast carried on his endless search for his very own piece of Sheene history. Much to his sheer delight, he came face to face with the answer.
An equally impressive piece of racing equipment, the Suzuki GT750 "Sheene Replica" was up for auction in the National Motorcycle Museum in December 2020, catching the eye of this anonymous buyer. The racing replica went for £8,050, a price worth paying for this top Sheene fan. A slick ride in Texaco Heron Suzuki colours and fully road registered, this small but mighty machine was there for the taking.
It may not be an original Barry Sheene motorbike, but rumour has it that the main man himself had once sat on it, proving enough for this motorcycle fanatic. He'd met his match and claimed his prize.
The future with his ma-sheene
Without a second thought, our keen motorcycle racing fanatic jumped on the opportunity and won the auction. It was a momentous occasion for this committed racing fan, finally that step closer to getting his very own Sheene racing machine. Victorious, our protagonist wanted to hop on the high-speed racer immediately, but how would he get it over to the US? That's where Autoshippers came in to make his dream a reality. With speedy delivery, the replica was raced over to the buyer so he could continue onto the track and beyond. The client, based in Richmond, Virginia, USA, stated that he "couldn't wait to receive it and ride it".
You can watch a video of our team crating the Suzuki here:
Another day, another triumph
At Autoshippers, we love meeting interesting clients from around the world who have an undying passion for unique, incredible vehicles. If you have a motorcycle that you'd like imported or exported, we're here to make that happen with fast, reliable and affordable shipping. Get a quote here or go to our motorbike shipping page for more info.