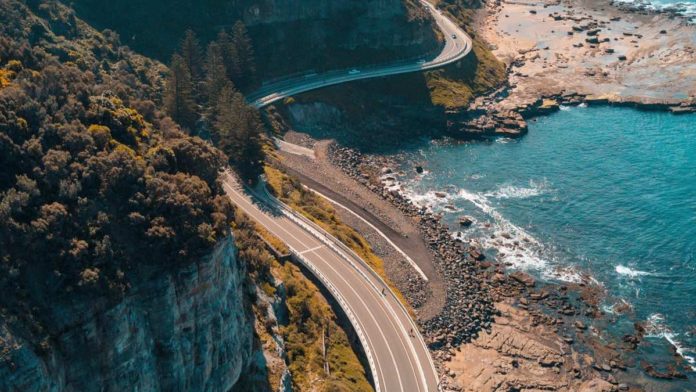 With its wild coastlines, rugged outback, and expansive horizons, Australia is best explored on the open road. There's so much to take in when adventuring through Australia, around 2,969 square miles to be exact. With so much land to explore, it's no wonder tourists, expats, and Aussies alike love hopping on the highway for road trips in Australia.
From importing a car to Australia to renting one upon arrival, there are plenty of excellent options for taking your travels to the highway. The great news is, driving in Australia happens on the left side, so Britons will find it easy to adapt to Aussie streets during their travels. The only thing stopping you is deciding which path to hit first. So, we've put together our pick of the top five road trips in Australia. Browse the options, take your pick, and head out to explore beautiful Australia by car.
Great Ocean Road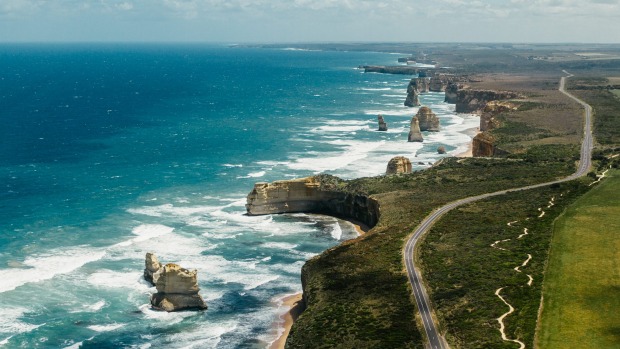 The Great Ocean Road is one of the most popular road trips in Australia, and with good reason. The road winds along the Southern Ocean, framing its raw beauty in the window of your car. Between pristine beaches, rocky cliffs, and abundant wildlife, you'll see the best coastal Australia has to offer, all from behind the wheel.
But don't hesitate to take a detour, or several, to explore these scenes first-hand. Along the journey, you'll find opportunities to hike, plunge into the surf, or take in panoramic views at Twelve Apostles. The journey is around 249 miles, making it the perfect weekend getaway for those itching to explore by driving in Australia.
Starts: Torquay
Ends: Nelson
Days you need: You can make this trip in one day, but we recommend taking at least three days to get the most from your experience.
Red Centre Way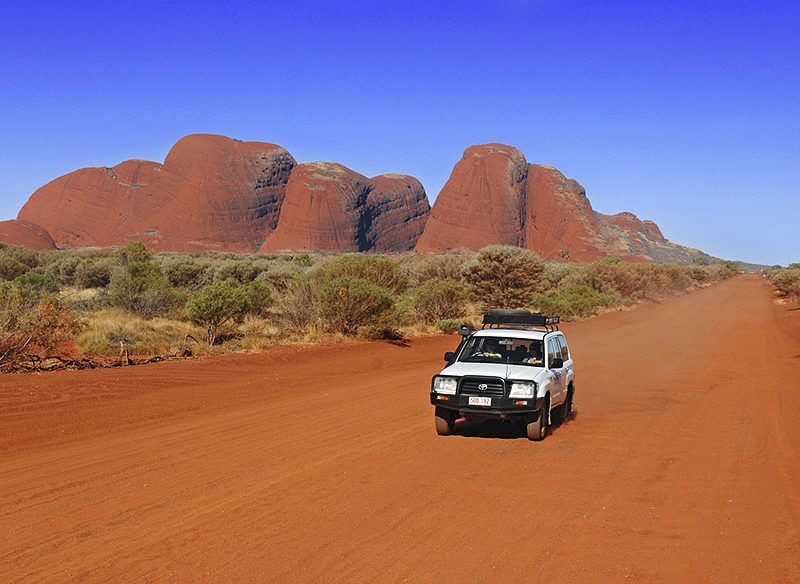 The Red Centre Way gives road trippers a unique experience of driving in Australia. This loop offers the chance to explore the vibrant red heart of the Land Down Under. Start in Alice Springs, working your way through beautiful mountains and desert landscapes until you arrive in Kings Canyon, located in Watarrka National Park. At the end of the trip, you'll stop in spectacular Uluru-Kata Tjuta National Park before making for Alice Springs to complete the loop.
When it comes to road trips in Australia, this route is one of the longer options. With miles of scenic road, extraordinary hikes, and sunsets that light up the hulking red rocks, you'll want at least five days to take it all in.
Starts: Alice Springs
Ends: Alice Springs — This is a loop exploring Uluru and Kings Canyon along the route.
Days you need: You'll want at least five days to make the most of your time on this trip.
The Big Lap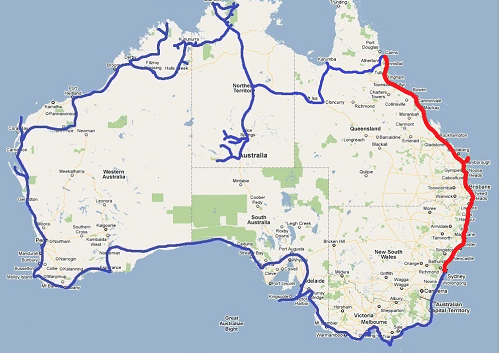 The Big Lap is precisely as it sounds: a big lap around Australia. The epic 9,000-mile journey takes travellers along Australian Highway One, the world's longest national highway. You'll travel through several state capitals and experience the best the country has to offer. As this trip is long, you may want to do it in sections or save up for the occasion. Getting to say you circumnavigated on this once-in-a-lifetime adventure will make the mileage well worth it.
Starts: Anywhere you can hop on the Australia One.
Ends: Where you started! The big question is whether to travel clockwise or anti-clockwise.
Days you need: It can take anywhere from six months to a year to tackle the Big Lap. If you don't have the time, choose a section and head out for an exciting weekend of driving in Australia.
Grand Pacific Drive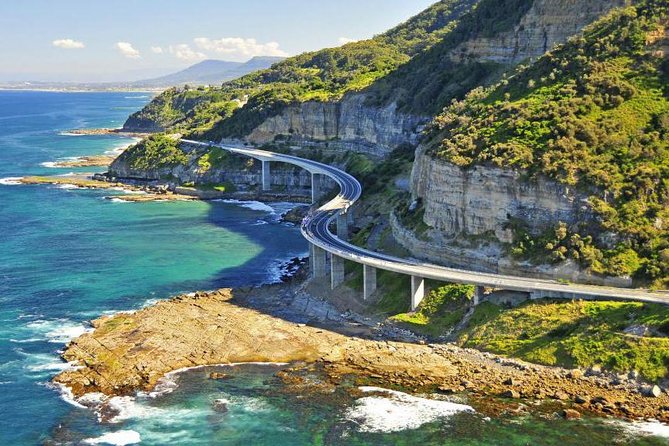 Compared to The Big Lap, Grand Pacific Drive is a much shorter road trip in Australia. Start in sunny Sydney and venture out to a drive filled with blue skies and refreshing coastal views. You'll start in the lush Royal National Park, weaving through to Stanwell Park and then hugging the coastline as you drive over Sea Cliff Bridge. The journey gives road trippers countless opportunities to stop at lookouts, indulge in delicious seafood, and savour everything coastal Australia has to offer.
Starts: Royal National Park in Sydney
Ends: Nowra
Days you need: One, but we recommend taking the weekend to really enjoy the journey.
The Savannah Way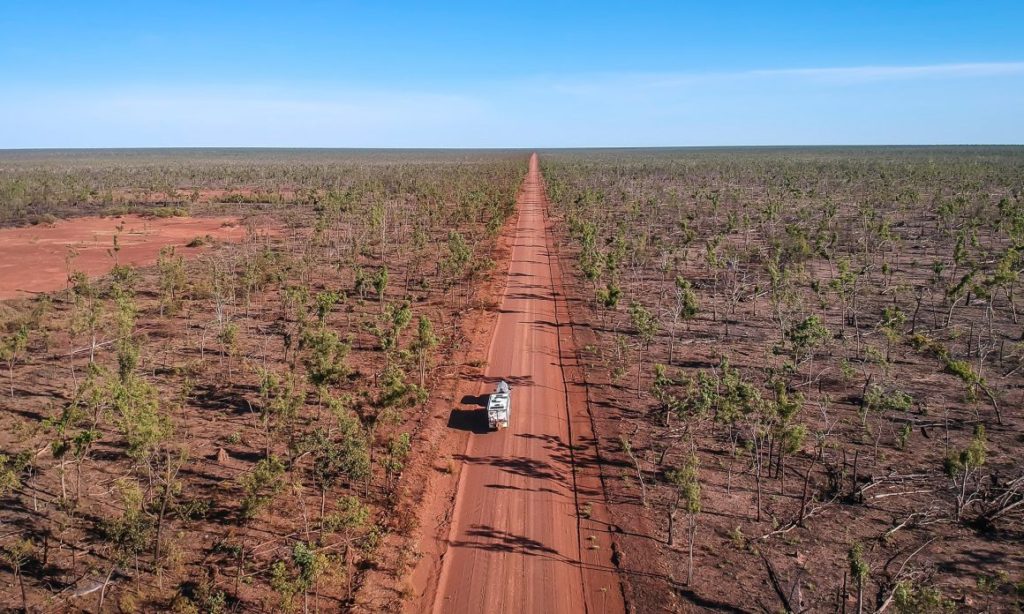 Nature-loving travellers will adore the Savannah Way, a road trip in Australia that takes you through five World Heritage areas and 15 national parks. This experience driving in Australia will connect you with the country's Aboriginal history, natural wonders, and impressive wildlife. The entire route is just under 2,300 miles, revealing gorges, waterfalls, and picturesque scenes at every turn.
Starts: Cairns
Ends: Broome
Days you need: Take around two weeks to fully enjoy this road trip in Australia.
Conclusion
At Autoshippers, we know all about shipping cars to Australia. We've been getting vehicles from the UK to Aus for over 20 years. We offer door-to-door services and daily collections for vehicles, including classic cars, motorhomes, and motorbikes, so you can bring is all along on your road trip in Australia.
Our weekly departures for RoRo car shipping are available from Southampton and Sheerness to several ports in Australia. Our container car shipping services depart Southampton, bound for Melbourne, Sydney, Adelaide or Brisbane.
We offer full marine insurance through Basil Fry Co, so you can rest assured knowing we have everything covered when it comes to shipping your car to Australia for an exciting adventure.
Contact us to learn more about our services, head to our site for a free quote, or give us a call at 0800 389 0784 to discuss importing your car for a road trip in Australia.