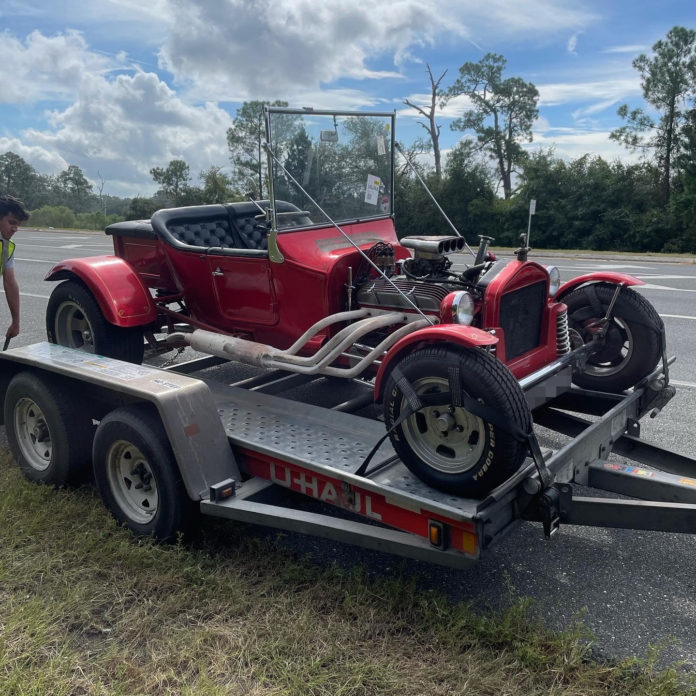 Is there a car that you first set eyes upon when in your teens, that you promised yourself you'd one day own? Or maybe a motorbike that was ridden by your hero, that you watched jump over 10 buses and land unscathed? Never let go of those dreams, as one day they could become reality. With some perseverance, a little bit of luck, and some help from your friends at Autoshippers it could happen….
Shotgun
One customer of ours first laid eyes on the car of his dreams when he visited the Belle Vue Custom Car Show in Manchester back in 1976. The car? A Ford Model T Bucket "Hot Rod", strikingly painted in red with gleaming chrome. He told us that it was "almost too much to take in". This car was well known in the British Hot Rod and custom scene and was dubbed "Shotgun".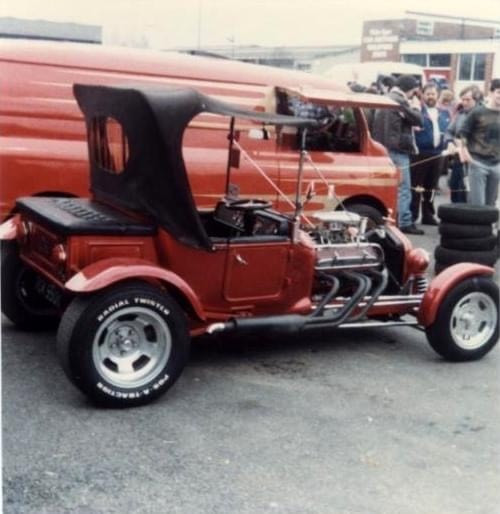 Shotgun was built in 1971 by a gentleman called Glynn Dobinson in Lancashire. He made the frame, all suspension parts and brackets himself from scratch, as well as beating the body out of steel by hand when he decided to replace the existing fibreglass body. He even painted the car himself!
2 years later, in 1978, our customer saw the car again. This time at the Blackpool Custom Car show with a "for sale" sign on it. It was some time after this, when he was living by the coast, that he heard the loud rumbling of a souped-up engine, followed by a familiar air horn sounding out La Cucaracha. He looked out of the window and saw Shotgun, being driven by his neighbour, who was a car dealer.
He was invited out for a spin, and didn't hesitate to hop in for a ride he'll never forget. A hair raising ride. Huge tyres scrambling for traction on sand-covered 90-degree bends are etched in his memory forever.
In the early '80s, following his love of hot rods and customs to the land of their birth, he ventured off to the USA with his family. He continued his obsession, building and restoring cars, but never forgetting Shotgun, the Hot Rod that started it all for him.
What is a "Hot Rod"?
The term "Hot Rod" is used for an old or classic, usually American, car that has been rebuilt or modified, with a larger engine that gives it more speed and acceleration. The term "hot" is thought by some to originate from the original Hot Rods being built from stolen cars, whilst another theory is that it comes from the modification making the car more desirable, or "hotter"
The first Hot Rods appeared in the late 1930s in Southern California, where they were used for racing on the dry beds of Los Angeles, and were modified most often from Model T Fords. After World War II, there were plenty of abandoned airports that Hot Rod enthusiasts could use for racing, and a generation of soldiers returning from the war after being trained as mechanics and engineers, giving them the know-how to convert their own Hot Rods.
In the '60s, with the advent of the muscle car and car manufacturers offering high-performance cars from new, Hot Rods became less popular. This all changed in the '70s with the focus back on fuel economy, due to the 1973 oil crisis, and Hot Rods came back into fashion, as well as "Street Rods" which are designed for use on the public roads rather than racing.
What Makes "Shotgun" a Model T Bucket?
Now, the answer to this comes from the origin of the car before modification. Originally, Hot Rods were modified from Model "T" Fords, but they can be modified from any make or model. If modified from a Model "T" Ford, the term "bucket" refers to the bucket-shaped body shell and was popularised by a US TV Show called 77 Sunset Strip which ran from 1958 to 1964.
"Shotgun" was modified from a 1923 T Bucket with a Chevy small block 283 engine. The transmission is a 3-speed powerglide, the front brakes are from a Ford Cortina and the front axle was built from scratch. The shiny red paint, and distinctive "Shotgun" logo on the scuttle, as well as the black, deep buttoned interior, complete the look of this fabulous example of a Model T Bucket Hot Rod. You can see why our customer has held on to this memory all these years.
It was when he was on a popular Hot Rod message forum that he discovered the current owner of Shotgun. I'll let him take up the story from here;
"I am floored, all these years later the car exists and is virtually unchanged!!! I immediately contacted him and told him the story of how the car is personally meaningful for me and that if he were ever to sell it to please give me a shot(gun, ha ha)
Many more years go by and I never stop asking…if he's ready to sell. I don't bug him, I just ask him once in a while.
Anyway, earlier this year….he's ready to sell…"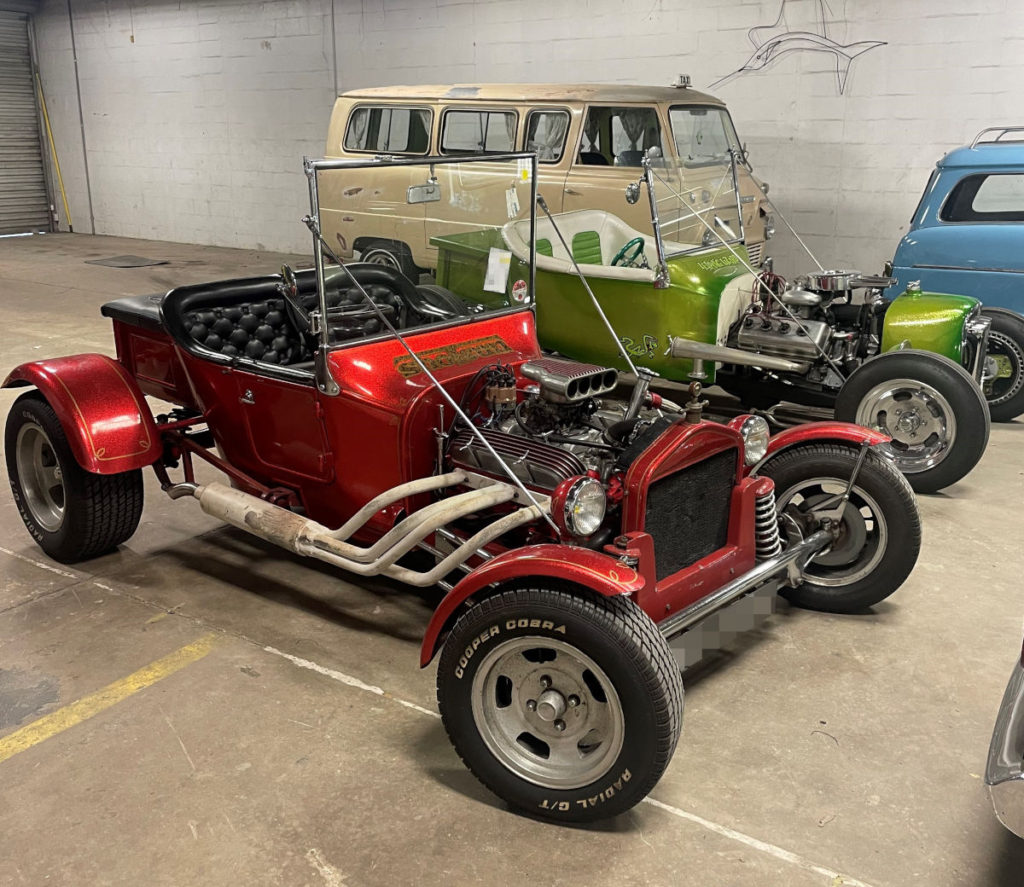 Shipping the Shotgun to the USA With the Help of Autoshippers
Once the deal was done, it was time to arrange the shipping. Autoshippers were duly contacted and we took over from there. Shipping cars to the USA is our speciality, and we have various different shipping options depending on your own personal requirements.
Before you ship your car, you need to make sure you can import it into the USA. Take a look at our USA Car Import Guide and our article on the 25-Year Rule to help you. Shotgun did get held up a little in US Customs, but as our customer had done his homework and all of the correct documentation was in place, they released it after checking everything out.
Shotgun was shipped to the USA via our Ro-Ro service, which is a specialist vehicle shipping service utilising specially designed Ro-Ro vessels. We also have dedicated or shared container services, as well as airfreight for time-sensitive shipments.
Each service, and destination, has its own costs. So for your own specific, bespoke quotation, simply fill out the form on our website or give our sales team a call on 0800 389 0784 or +44 117 982 8123.
As well as car shipping, we have motorbike shipping services which include the cost of custom crating. Take a look at some of our motorbike crating videos so that you can see how protected your bike will be during shipping.
And don't just take our word for it! We employ independent review company eKomi, and are proud of the positive reviews that we get from our customers. You can take a look at our review page here.
We'll let our lucky customer have the last word on this, and if this doesn't have you thinking back to that memorable car that you owned, or coveted from afar, then nothing will;
"I drive over there but don't see the car anywhere. ***** sees me and says "look behind you, I'm standing up in the car" and that's when I saw it. There it was, this very car I rode in when I was 17 years old, right there."