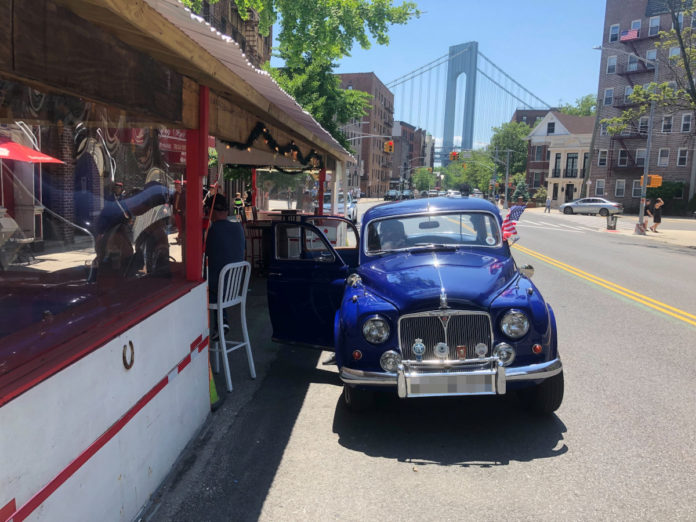 At Autoshippers we have the pleasure of shipping many classic British vehicles over the Atlantic ocean to the USA. There aren't many that are more British than a Rover, and we were recently asked to ship a classic 1955 Rover 75, in outrageously good condition as you can see from the arrival photograph, from the UK over to Brooklyn, USA.
The Rover Company – A Brief History
Our story begins, similarly to other British car manufacturers' stories, with a company of bicycle makers. The Rover Company had been originally founded in 1877 and developed the modern safety bicycle. After firstly moving to Motorcycles in 1903, the first petrol-engined Rover car was introduced a year later.
The first car they manufactured had a single-cylinder 8hp engine, followed by a smaller and cheaper 6hp model with an early example of rack and pinion steering. During the 1st World War, they produced motorcycles for both the British and Russian armies.
After moving to a site in Solihull in the lead up to World War 2 as part of the government's shadow factory scheme, Rover built aero engines which were used throughout the war. As their original factory in Coventry suffered extensive war damage, they remained at Solihull after the end of the war and this became their main production site.
Post-war, the company continued to innovate, and in 1948 brought out a four-cylinder 1.6-litre and a six-cylinder 2.1-litre model, which included side exhaust valves and a new chassis. 1948 also brought perhaps what remains the most iconic of Rover's vehicles, the Land Rover.
Based on the World War 2 jeep, when launched the Land Rover was the first mass-produced civilian four-wheel drive car with doors on. The idea was that the Land Rover was only in production for two to three years after the war until there was demand again for the more expensive, up-market models that Rover favoured pre-war.
The Land Rover was such a success, however, even when normal production resumed, it was continued and has become the worldwide success it is today.
The Rover P4 1949 – 1964
One of the luxury saloon cars that the Land Rover was meant to be a short-term replacement for, was the Rover P4 series. Introduced in 1949, the P4 was the factory designation, used internally, for this group of cars. The first was the 6-cylinder 2.1 Litre Rover 75 in 1949, which was followed by the 4-cylinder 2-litre Rover 60 and 6-cylinder 2.6-litre Rover 90 in 1955.
When first produced, the Rover 75 (P4) was a step above the Rover 75 (P3) which it replaced. It featured a chrome grille, recessed headlamps and a streamlined body giving it a very modern style, stealing a lot from the US Studebaker design.
In 1964, after building more than 130,000 cars, the Rover P4 ceased production, with manufacturing continuing on the P5 and P6 models until 1966 when the Rover Company was bought by Leyland, which subsequently was merged into The British Leyland Motor company a year later.
Autoshippers – The Car Shipping Experts
When our customer, James, found his dream car, the fact that he was over 3,000 miles away on a different continent may have been a stumbling block. This, of course, is where Autoshippers come in. We have been shipping cars and other vehicles for our customers for over 20 years, and the UK to USA lane is one of our specialities!
If you are looking around for a vehicle to ship to the USA, there are certain things that you need to be aware of. These are outlined in our US vehicle import guide, as well as our blog entitled Everything You Need To Know About The 25-Year Rule.
There are a few options for shipping, based on your own personal requirements, including airfreight or a dedicated container service, but these can prove costly. James used our Ro-Ro service, Ro-Ro standing for Roll on – Roll off, which utilises specially designed shipping vessels designed to drive vehicles on and off rather than loading containerised cargo.
This is an extremely reliable service and runs separately from standard container shipping services.
For more details on how we ship, examples of the types of vehicles that we ship, and details of our marine insurance cover take a look at our website.
If you would like a bespoke quotation, please complete the quotation form or give us a call on +44 117 982 8123 or 0800 389 0784. Your quote is free, and you have no obligation to book with us. However, you may want to listen to James;
"Got my car shipped from Southampton, it took 11 days and the whole thing went without a bump. My second time using Autoshippers, great people".
High praise indeed! Thanks, James.