There aren't many cars as iconic as a Ford Anglia. Older generations either owned one, or their parents did, and younger generations know it as the "flying car" from the Harry Potter books and films. Either way, if you see one, you usually know what it is.
At Autoshippers we recently had the pleasure of shipping a 1965 Ford Anglia 105E Estate to the USA via our Ro/Ro service.
The Ford Motor Company

Henry Ford had built his first vehicle in 1896 and had his first foray into car manufacturing in 1899 with the Detroit Automobile Company, which was dissolved in 1901. After some racing success in the Grosse Pointe race in Michigan, the Ford Motor Company was incorporated in 1903. It was this company that would survive all the way up to today, and help change the way vehicles were manufactured forever.
It didn't take long for The Ford Motor Company to branch out from the USA, and in 1909 Ford Motor Company (England) Limited started up in the UK with offices registered in Essex. At first, the company sold cars imported from the USA, and then in 1911, an assembly factory opened in Manchester which assembled cars from imported chassis and parts, with the bodies sourced locally.
In 1914, full car production began at the factory, and in 1923 this was moved to a site in Dagenham, to utilise the deepwater port on the River Thames. The Ford Motor Company Limited, named without the (England) since 1928 went from strength to strength, opening new factories in Basildon and Swansea, as well as in 1962 opening a factory in Halewood, Liverpool to make the popular Ford Anglia.
Ford Anglia
The first Ford Anglia rolled off the production line in 1939. The E04A model was aimed at the more affordable end of the market, with a 933cc side-valve engine. An updated model arrived in 1949, with the catchy moniker E494A, and with similar styling as its predecessor. It was known at the time as "Britain's lowest priced four-wheel car" with a top speed of 57 mph.
It wasn't until 1953, when Ford introduced the Anglia 100E, that the classic style of the Ford Anglia was first seen. The Ford Anglia 100E was two-door (a four-door was available as a Ford Prefect 100E) and had a 36bhp side-valve engine. From the beginning of production in 1953 until the end in 1959, over 345,000 100Es had been produced.
In 1959 the 100E was replaced by the fourth model of the Ford Anglia, which was known as the 105E.
Ford Anglia 105E
Launched in the same year as the ever-popular and iconic Mini, the Ford Anglia 105E had a new engine, a 997cc overhead valve straight-four. This still resulted in sluggish acceleration but was a big improvement from earlier models. Also new was a four-speed gearbox and the overall styling was different, taking a streamlined look similar to the American Studebaker.
The 105E came as a saloon, panel van and in September 1961 as an estate model. The 105E was the last design of Ford Anglia produced before being replaced by the Ford Escort in 1968, despite the best selling year of the Anglia coming a year earlier in 1967.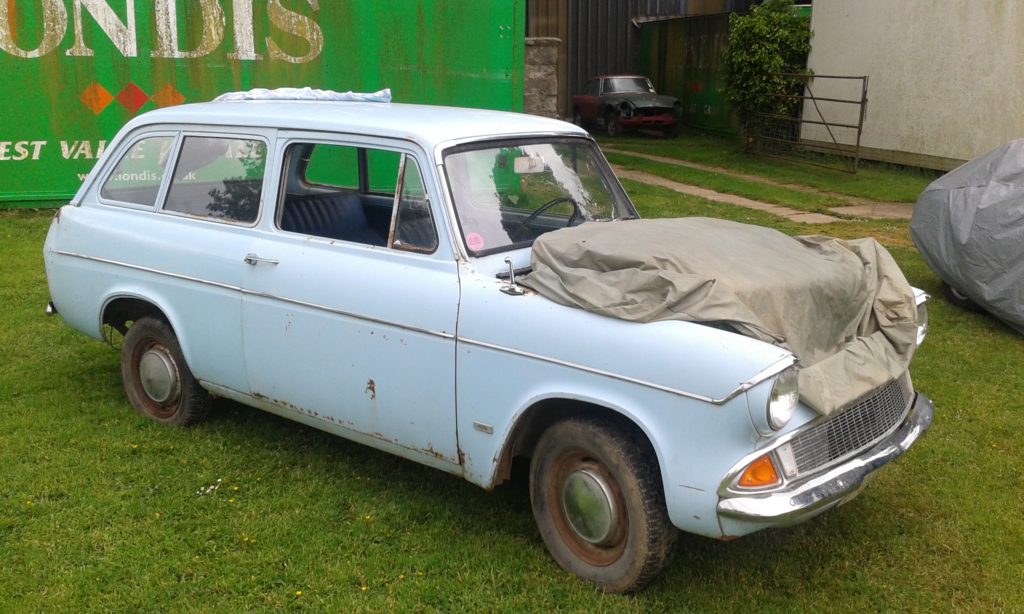 It was a slightly earlier 1965 Ford Anglia 105E estate that we shipped to the USA for one of our customers. Originally, his father bought this car as a barn find in France in 1991, as a non-runner. From there it sat in his garage as a planned restoration project until this year.
Coinciding with a decision by his father to downsize his collection (he owns a Ford Anglia saloon that he has had since the 1970s) our customer was planning for a classic car/project car to work on, so it was agreed that he would take on the 105E estate. As he was in the USA, this wasn't a straightforward process.
Shipping a Ford Anglia to the USA with Autoshippers
Originally our customer was looking to move as a non-runner via a dedicated container service but, partially due to the parts needed to get the car running being cheaper in the UK and partially due to shipping costs, it was decided to use our Ro-Ro (Roll on-Roll off) service.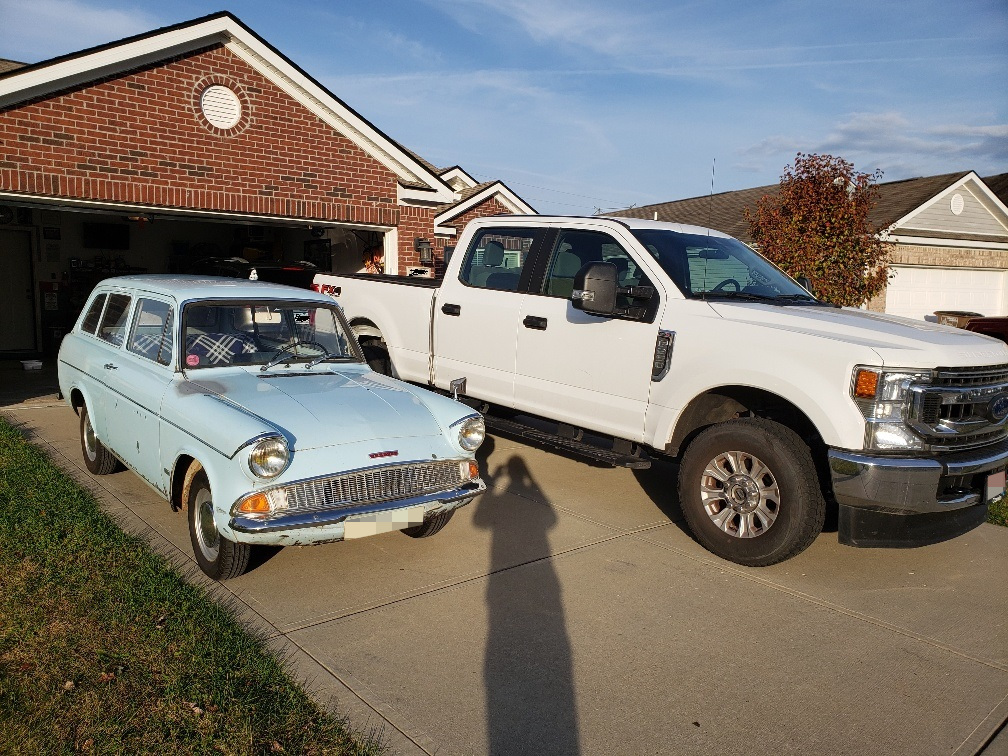 Our Ro-Ro service utilises specially designed shipping vessels, which allow vehicles to be driven straight onto them, and then driven off at their chosen destination. These shipping vessels aren't used for container shipping, so are not currently affected by the equipment and port delays that are affecting some container shipping schedules.
The main hurdle with shipping this Ford Anglia estate was with the vehicle documentation. With the French logbook being lost by our customer's father, an alternative registration document was required, and this took around 4 months to arrive. At Autoshippers we kept the booking on our system pending receipt of all of the correct documentation, so once received we were ready to roll.
For more details on shipping vehicles to the USA, take a look at the Autoshippers website, where we have import pages for the USA, Australia, Canada, New Zealand and many other popular destinations. For the USA specifically, there is a blog page with information on the 25-Year Rule which is important when shipping vehicles to the States.
If you have a vehicle shipping enquiry, please give us a call on 0800 389 0784 / +44 117 982 8123, fill out our contact form, or request a free, no-obligation quote by clicking on the link on this page.
Autoshippers Reviews
Don't just take our word for it! We work with Ekomi, which is an independent review website, and we invite our customers to leave details of their experiences of shipping with Autoshippers. Feel free to take a look at our review page, or directly with the Ekomi website.
The customer for whom we shipped this Ford Anglia 105E estate decided that the service he received deserved 5 stars! His comments were;
"Autoshippers are excellent. I wouldn't use any other shipper for my personal possessions and cars. They are patient, efficient, have excellent communication and more importantly of all, they ensure my vehicle arrived safely"
We'll take that, thank you very much.