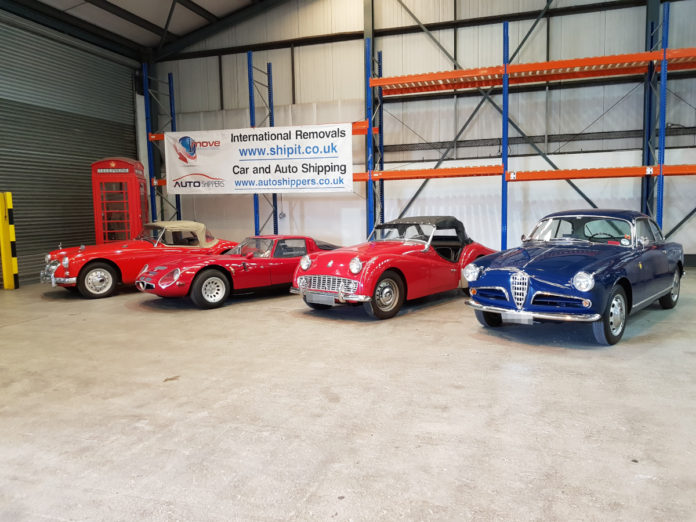 It's hard not to stop, point and exclaim 'look!' when a gorgeous, timeless vintage car toots past us. They are a real treasure and sought after worldwide, which leads us to international car shipping. After all, how else are you going to find that amazing, sleek classic car and make sure it's parked in your own garage soon?
Whether you're planning on shipping a classic car due to relocation, selling, restoration or maybe to add it to a museum collection, there are some important factors to consider.
Before you send it on its merry way, you need to look at the vehicle's value, rarity, and overall condition. This may determine how you choose to ship your antique wheeled gem.
Here is everything you need to know about shipping a classic car overseas.
Insurance, Tax and MOT
The first thing to do is take a look at your insurance policy. For shipping cars internationally, you need a special kind of insurance called Marine Insurance that provides protection and secure cover.
Marine Insurance is separate from your standard motor insurance policy that allows you to drive your vehicle on the road. It's essential to check with your current motor insurance provider to see if they offer extended cover for you to drive your car overseas.
If you're planning on driving the vehicle to the port, you'll need a current MOT and road tax in place. On the other hand, there are convenient services that offer collection from the port which means you only need a valid MOT and no road tax.
If it doesn't have an MOT, don't worry, it can still get from A to B using a full transporter service to avoid driving it on the road at either end of the journey.
Inoperable Cars Can be Shipped
Looking for a fixer-upper? If your car is out of action, you can still ship it. Regardless of whether it can be driven, there are means of transporting your vehicle; it just needs to be handled a little differently.
Collection of non-operable vehicles can be arranged, offering safe and efficient loading and transportation of your classic, vintage car.
For vehicles without functioning brakes, they will have to be shipped in a personal or shared container. For cars with operating brakes, it is possible to use a RoRo service (roll on roll off). However, RoRo is limited to operable cars as the vehicle will need to be driven onto the deck – so it's best to check before if this is an option for you.
The Best Method to Use
If you're wondering 'how much does it cost to ship a classic car?', it all depends on how you choose to do it. There are many fantastic options accessible to us for shipping a classic car. Here are a couple of the top choices.
RoRo car shipping services (roll on roll off) makes shipping a classic car incredibly easy. Your vehicle is simply driven onto the ship and driven off when it reaches its destination port. It's fast, affordable and a top choice for people choosing to ship their vintage vehicles overseas.
For a little extra protection, or if you're shipping more than one car, you may want to consider container car shipping. With that extra space, you can also ship any parts or accessories at the same time.
For some people transporting a vintage car, air freight shipping services are sometimes favoured because it offers maximum protection for your vehicle, fast transit times and complete peace of mind.
Whichever method you go for, know that your vehicle is in safe hands, and shipping professionals know exactly what they're doing when it comes to handling even the most prized vintage cars.
Prices can be found online. Check out our prices for an example of low rates and fast shipment.
Inspect and document
Before you ship off your vintage vehicle, be sure to inspect it thoroughly. If in doubt, it's best to consult with a mechanic for a professional inspection to record any unique quirks or existing damage. This way, you'll have evidence of the condition of the vehicle should the unlikely event of damage occur in transit or upon delivery to you or its awaiting owner.
If you'd rather do this yourself, you can locate any issues using a specific manual dedicated to your vintage vehicle. Make sure to take some photos of the car to back up any comments and attach dates to these for reliable evidence.
Prepare the vehicle
Once you've chosen your shipping provider and carried out all the necessary checks, you have to start preparing your vehicle for dispatch.
This includes removing all personal belongings from inside the vehicle and giving it a thorough clean. This is essential as storing extra items in the vehicle is not permitted and could damage the car during transit. Don't forget the outside too! You will need to fold in the mirrors and either pop down or remove the antenna and place it in the glove box or boot while the car is in transit.
Be sure to follow the advice of your shipping company like how much fuel to leave in your tank. There are strict guidelines on this, so it's essential to check before sending your vehicle off for loading. The fuel available in the tank should be just enough to get the car on and off the ship during transport.
Lastly, carry out any maintenance checks. This includes tire and brake checks and ensuring the battery is fully charged to ensure a smooth transit for everyone involved.
Work with the professionals
When it comes to shipping a classic car, trust the experts. Working with dedicated, reliable shipping professionals can make for a stress-free and straightforward experience.
At Autoshippers, we have years of experience shipping some of the most illustrious vintage cars around; we almost wish we could keep them. We take care of the vehicle and all of the paperwork involved, so you can enjoy efficient shipping without the hassle every time. If you're planning on shipping a classic car, contact Autoshippers and we'll take care of the rest.