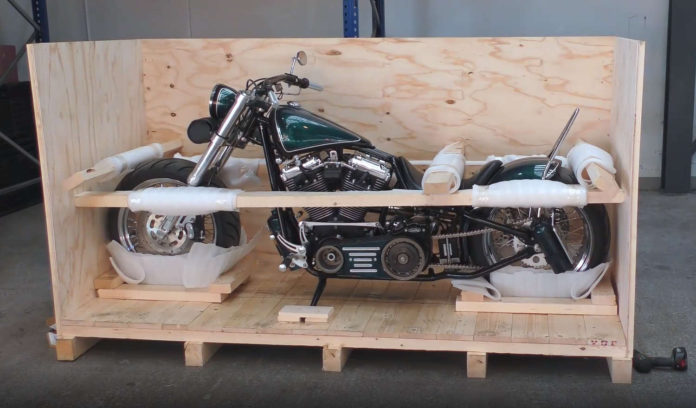 A motorbike is a faithful ally, a partner on the road. For bikers, it represents a way of life and embodies a spirit of freedom. So if you're moving abroad, then you may be reluctant to leave it behind.
But where do you even start? There are different shipping options, documents you need to gather and other preparations that need to be made. It can seem so stressful to try to figure out everything that you need to do.
That's where we come in! The team at Autoshippers are here to guide you through the motorbike shipping process and to help we've put together an extensive international motorbike shipping guide with all the information you need.
Shipment By Air or Sea?
When looking into shipping your motorbike abroad, you may be a little stunned at the options there are out there. First is deciding whether you prefer to transport it by boat or plane.
The air freight option is better for those who want very fast and dependable transit times. In the majority of cases, you'll know exactly what time it'll be landing. At the same time, it gets to your location much faster than if you were to opt for a boat. The security is second to none and you can have peace of mind knowing you'll get your bike in perfect condition. The downside to the air freight option is that it's typically much more expensive than opting for sea freight.
By boat, you can rent your trusted steed an entire crate. It'll travel solo, strapped up with foam padding and with maximum protection in a custom-built container. You'll get extra security and reassurance your beloved possession is safe. Another advantage is that you don't have to do much preparation yourself if you opt for an uncrated roll-on/roll-off (RORO) door-to-door service. You simply hand off your vehicle, and we do the rest.
To see how we'll prepare your motorbike for shipping by sea, check out the video below where we professionally crate a Harley Davidson:
Documents Needed
Just like if you were going abroad yourself, your motorbike needs the proper documentation to get to the final location. Having it all prepared and ready beforehand will ensure a seamless delivery and no added stress. Below are the different forms of paperwork you will need:
Bill of sale (if your motorbike hasn't been owned for more than six months)
Certificate of sale
Copy of your passport
Copy of your driver's licence
Letter of permission from the lien holder (if your motorbike is leased)
If you're sending your motorbike by boat, Autoshippers can take care of handling your documents. Simply send us the paperwork required above, and we'll make sure everything goes smoothly at customs. You don't have to do anything as we act on your behalf and ensure your bike gets to you with no bumps in the road.
Preparing Your Bike For Transport
There are some steps you'll need to take before you dispatch your vehicle. Make sure it's clean, and remove any personal belongings that may be attached. The best way to clean your motorbike is by removing all heavy dirt so you can examine its condition before travel. Take note of any existing scratches, dents, or chips, so you know for sure it wasn't the transport that caused them.
When you know the exact condition your motorbike is in before travel, you're going to want to take photos for proof. This is in the rare case that something happens during transit to ensure our insurance will cover it. Aim to take pictures from different angles, including close up shots of any cosmetic marks your vehicle already has. Don't forget to date your photos as well. You'll have complete peace of mind knowing that you and your bike will be covered.
Do I Need Insurance?
Yes. Insurance for motorcycle shipments is mandatory, however, you can choose to insure the vehicle yourself or through your shipping company. We always recommend taking out as much as you can to protect your bike as much as possible. Luckily, we offer three different forms of marine insurance for all vehicles we ship internationally. You can choose between restricted, standard, and super cover:
Restricted Cover: Total loss of vehicle protection with an excess of one per cent
Standard Cover: Total loss of vehicle, damage to vehicle, and theft of vehicle protection with a policy excess of one per cent
Super Cover: Total loss of vehicle, damage to vehicle, and theft of vehicle protection with no excess
We work as efficiently as possible using quality methods to ensure the safe delivery of your motor vehicle. We handle every step with the utmost care, however, there could be third-party factors that would benefit from our full insurance cover. Luckily, we always provide this as part of our standard service.
Never Be Without Your Motorbike
There's nothing quite like having your beloved motorcycle with you throughout all the big moments in your life, including moving to a new country. Shipping your motorbike abroad can make this all happen. Like most things in life, preparations need to be made, but it's all worth it to give you the peace of mind that you'll be getting your bike in perfect condition. Get ready for the ride of your life, and don't be afraid to take your favourite vehicle with you.
At Autoshippers, we can help you with every step you need to take. We're always here to answer any concerns you may have and want to ensure you feel perfectly comfortable when passing your motorbike over to us. Everything we do is with care and caution, so don't be afraid to get a free quote for your shipment. Let us help you with your journey.