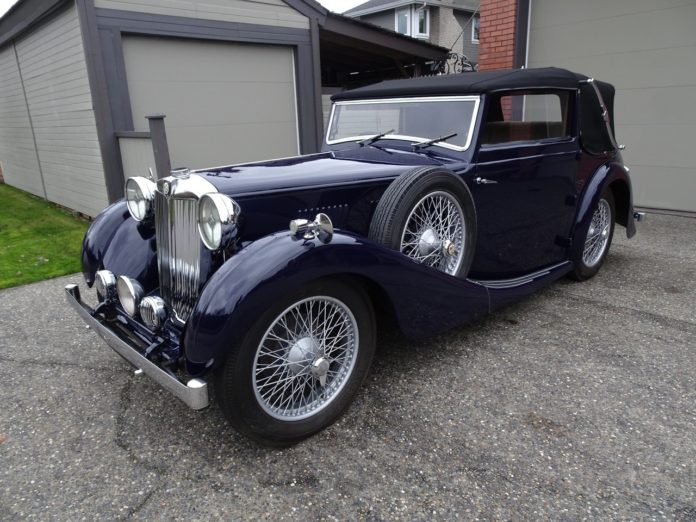 At Autoshippers we are always pleased when we receive arrival photographs from our happy customers, sometimes accompanied with a few lines giving us the history of the vehicle in question. On this occasion, however, our happy customer has done all the hard work for us and produced this most excellent write-up telling us all about his 1939 MG VA Tickford Drophead Coupe. So we will leave the rest to him…
The MG VA was introduced at the Olympia Motor Show in 1936. It was a scaled down version of the 2 litre MG SA. The VA was built from February 1937 to September 1939, although the first deliveries of the MG VA appear to have only started in April, 1937. Production ceased in September 1939 with the MG factory changing over to supplying materials for the war. After WWII, the VA was not resurrected but instead replaced with MG Y-types.

In the UK, this car was called the MG 1 ½ Litre. Three body styles were available, the Sport Saloon, the Tourer, and the Drophead Coupe (known at the time as the Folding-Head Foursome).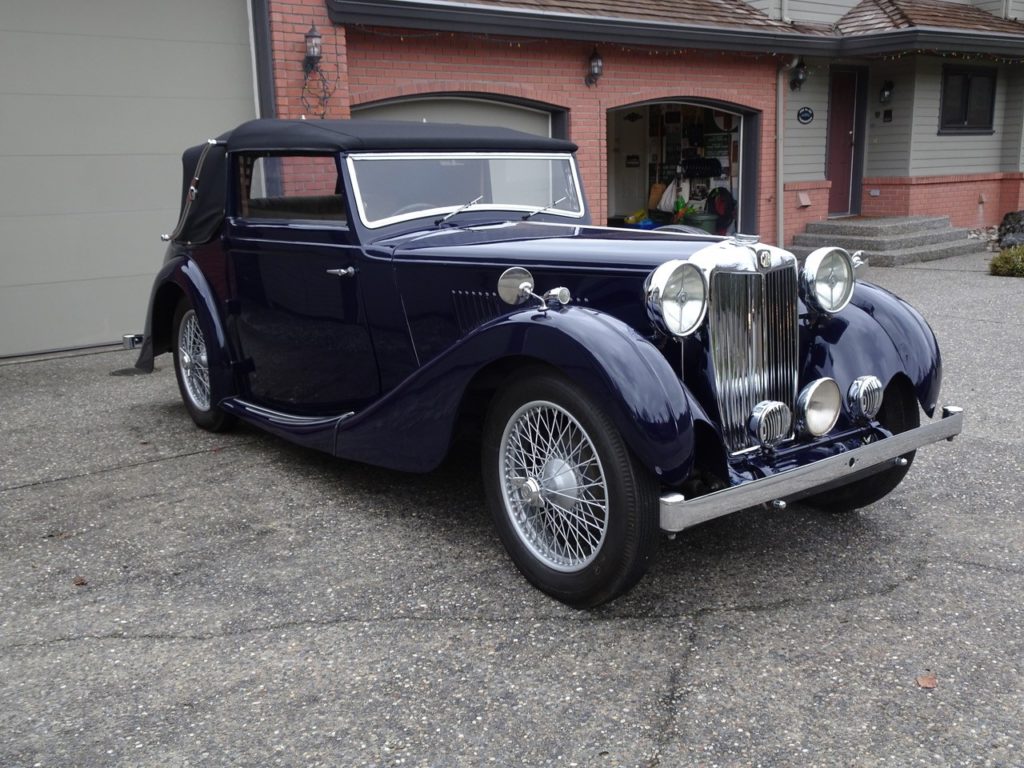 Production of the VA was a total of 2407 cars made up of 1252 Saloons, 564 Tourers, and 591 Drophead Coupes. The Drophead Coupes were built by Salmons and Sons at their factory in the old, walled Tickford Abbey in Newport Pagnell, Buckinghamshire. Salmons had developed a three-position top called the Tickford All Weather and subsequent cars bodied by Salmons with this top were called Tickfords.

The MG VA came equipped with the Morris TPBG 1548 cc engine with two SU carburetors. A four-speed gearbox managed the 54 bhp to speeds of up to 76 mph (122 kph) or 82 mph (132 kph) with the Tourer's windshield folded flat. A 0-50 mph time of 15.8 seconds for the tourer translates for the heavier Drophead coupe of a 0-60 mph time as "leisurely"!

This car (VA2377) was first registered on May 6, 1939, with registration #FOC 832. It is believed to have been sold by John Bryant & Sons Ltd., MG car distributor for Birmingham and part of Worcestershire, who had access to the "FOC" registration letters.

This MG's first owner was the Countess of Cardigan, who came from an aristocratic family with ties to the Charge of the Light Brigade at the Battle of Balaclava in the Crimean War. The Charge was led by Lieutenant-General James Thomas Brudnell, the 7th Earl of Cardigan, who coincidently invented the three-button tunic or sweater which we now call the "cardigan". In recognition of the first owner, we have named our MG "The Countess".

The MG changed ownership several times over the years. I corresponded with Lyn Richard Futter, who owned the car back in 1967. He sent me a receipt showing his sale of the car to a JR Gardner. Lyn also told of having the car parked on the side of the road and having his windscreen spotlight stolen, of rebuilding the engine, and of a trip taken by himself and three mates from London to Newcastle and back, about 600 miles.

I wonder if an owner from the 1960s, a Peter Bennett Lewis, is a distant cousin? My maternal Grandmother was a Lewis whose family came from an area not too far from where Peter Lewis lived. An ancestry search may show an interesting family connection!

This MG was later purchased by Syd Beer of the garage Beer of Houghton, an MG distributor. Beer sold many MGs to the US airmen at the USAF base at Alconbury, six miles away. Syd was good friends with John Thornley, the Director and General Manager of MG who helped him procure many special MGs. Syd worked on all MGs, raced them both in the UK and internationally, and looked after "Old Number One", the first MG, driving it to many events.

Syd amassed a collection of over 50 MGs and had one of every type made except a Tigress. However, to make up for that he had an R-type, the Harvey Nobile Q-type, three K3s including the Kaye Don K3, a pair of the Jacobs Midget coupes, the most successful works MGB, and the EX-234 prototype. Syd stepped up for the MG Car Club when they found themselves without a home at the beginning of the Leyland era. Syd kept all their records and possessions at his Houghton facilities for over two years. This MG VA Tickford was purchased by Syd Beer for his collection that was to be made into a museum. His MG collection was the largest in the world at one time. Unfortunately, the museum was never opened and the cars languished, stored in barns on the Beer farm.

After Syd's death, a number of the cars, including this MG VA, were sold off. This car was purchased by Peter Bridges on September 11, 2020 and restored as his "Covid lockdown" project during 2021.

We were in the market for a pre-war car and specifically an MG VA Tickford. We thought that they were among the best-looking of all the pre-war cars. I scoured the ads and found a few for sale. This one sounded the most promising.

In order to help with our decision, I asked our local expert, Colin Fitzgerald, to look over the sales information. He gave me a cautious thumbs up. I looked at the on-line reviews for the dealership and found them to have a 5-star rating and great reviews. I checked out the authenticity of the car through the help of the SVW Register of the MG Car Club and was able to verify it as an original numbers-matching Tickford coupe. I had it inspected by an independent engineer who furnished me with a 3-page report. The items needing immediate attention were rectified by Peter Bridges. I felt comfortable that this car was worth purchasing.

We purchased the car from Peter Bridges through Castle Classic Cars in Wadhurst, East Sussex, UK. Andrew Collins arranged the sale for us as he had the car on consignment from Peter. The purchase date was October 29, 2021.

Autoshippers moved our MG from Southampton to Halifax using the car carrier M/V Morning Lucy. It arrived safely and then was carried by train 4000 miles to Annacis Island, Delta. We finally took delivery of our 1939 MG VA Tickford on January 11, 2022. Jason De Witt and his staff at Autoshippers looked after everything in the UK while I sat comfortably at home in Canada. The process was very smooth and I thank them for taking all the headaches and worries away from me and looking after my best interests.

Steve B
Autoshippers Services to Canada
Our thanks to Steve for this great write up, giving so much historical information regarding his amazing car. A special thanks for his kind words, at Autoshippers our sole aim in life is making sure we look after the vehicle shipping needs of our customers whilst they sit "comfortably at home", wherever that may be.
Shipping cars is our speciality, and Canada is one of our key markets. There are different options available to you for shipping your car to Canada, and we can help guide you in the right direction to suit your own specific needs.
The options available to you include a dedicated container service, for high value or classic car shipments, airfreight for a speedy, but more expensive, option and our specialist RRAK shared container service for some destinations.
On this occasion, we used our Ro-Ro shipping option. Ro-Ro stands for "Roll on – Roll off" and is a shipping service specifically for vehicles. Specially designed Ro-Ro vessels are used, and vehicles are driven on, then driven off. It is a very reliable service and runs completely separately from the commercial container shipping services.
If you would like any further details on any of our services, then please get in contact with us. If it is a price you need, then please fill out the quotation form found on this page, go to our website, or give us a call on +44 117 982 8123 or 0800 389 0784. The quote is free, and you have no obligation to book with us.